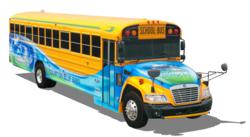 Gainesville, GA (PRWEB) May 03, 2012
Hall County, the first school district in Georgia to fuel their school bus fleet with propane autogas, will hold the "Georgians Supporting Georgians for a Greener Community" event on Thursday, May 10, 10 a.m. Eastern at Hall County School District Transportation Center. In addition to dignitary speeches, there will be a key hand-off ceremony, school buses on display, and a refueling demonstration with three of Hall County's 20 new Blue Bird Next Generation Propane-Powered Vision school buses.
Hall County invites you to see the future of alternative fuel school bus innovation. Blue Bird, Ferrellgas, Yancey Bros Co., and ROUSH CleanTech team up with Hall County to unveil the district's 20 new propane autogas powered school buses and demonstrate the benefits of this cleaner, less expensive and domestically produced fuel.
Featured attendees include:
State of Georgia:
Nathan Deal, Governor (invited)
Casey Cagle, Lieutenant Governor
Brian Kemp, Secretary of State
Butch Miller, State Senator
Kit Dunlap, President, Hall County Chamber of Commerce
Carlton Allen, Director of Pupil Transportation, Department of Education
Hall County Schools:
William Schofield, Superintendant
Lee Lovett, Deputy Superintendant
Craig Herrington, Vice Chairman, Board of Education
Jewel Armour, Executive Director of Operations
Gordon Higgins, Director of Community Relations
Blue Bird Corporation:
Phil Horlock, President and CEO
ROUSH CleanTech:
Todd Mouw, Vice President of Sales and Marketing
Ferrellgas:
Woody Wilkins, Account Manager
Yancey Bros Co.:
Eric Arnold, Vice President
Mark Terry, General Manager
Jay McDuffie, Business Manager
Shooter Roberts, Territory Manager
After the unveiling of the district's 20 new propane autogas powered school buses, Mr. Schofield, Mr. Horlock, Mr. Mouw, Mr. Arnold and Mr. Wilkins will be available for interviews.
About Hall County: The Hall County School District serves 25,780 students in 33 schools made up of 20 elementary, six middle, six high, and one career academy. Hall County school buses travel more than 3.5 million miles per year, transporting more than 20,000 students daily using 220 school buses and almost 6,000 bus stops on over 3,500 streets. The district's primary mission is to ensure the safest possible transportation system for its students while exploring avenues to make the operation as efficient as possible. According to the Georgia Department of Pupil Transportation, Hall County is currently the second most efficient bus transportation department in Georgia.
About Blue Bird: Blue Bird offers a complete line of Type A, C and D school buses in a variety of options and configurations. For 85 years, Blue Bird Corporation has continued to set industry standards with its innovative design and manufacturing capabilities. Additionally, Blue Bird provides comprehensive financial solutions through Blue Bird Capital Services. Today, Blue Bird has more than 1,500 employees, Georgia-based manufacturing facilities and an extensive network of dealers and service-parts facilities throughout North America. Its global presence can be seen in more than 60 countries through sales into Africa, Asia, the Caribbean, Latin America, Europe and the Middle East. For more information, visit the Blue Bird Corporation web site at http://www.blue-bird.com.
About Ferrellgas: Overland Park, Kansas-based Ferrellgas Partners, L.P. is a Fortune 1000 company and, through its operating partnership, Ferrellgas, L.P., serves the residential, industrial/commercial and agricultural propane needs of approximately one million customers in all 50 states, the District of Columbia and Puerto Rico. Ferrellgas employees indirectly own more than 20 million common units of the partnership through an employee stock ownership plan. Under the trade name Blue Rhino, Ferrellgas is also the nation's largest provider of propane by portable tank exchange. More information about the company can be found at http://www.ferrellgas.com, http://www.ferrellautogas.com and http://www.bluerhino.com.
About ROUSH CleanTech: Based in Livonia, Mich., ROUSH CleanTech offers dedicated liquid propane autogas fuel systems for a variety of light- and medium-duty Ford vans and trucks, and for the Blue Bird Propane-Powered Vision and Micro Bird G5 school bus. Currently offered through authorized Ford dealerships around the country, the ROUSH CleanTech propane autogas fuel system delivers the same factory Ford performance characteristics and serviceability with a 5-year/60,000-mile limited warranty. Customers can lower operating costs significantly while reducing vehicle emissions. Complete details on ROUSH CleanTech propane autogas offerings can be found online at ROUSHcleantech.com or by calling 800.59.ROUSH.
About Yancey Bros. Co.: Headquartered in Austell, GA, Yancey Bros. Co. is recognized as the nation's oldest Caterpillar dealer. Family owned and operated since 1914, Yancey offers Caterpillar, International, and Blue Bird products, parts and service in Georgia, and Blue Bird products, parts and service in Alabama. Our team of committed employees strives to deliver unmatched customer service in the markets we serve including Alabaster, Alabama and twenty-one Georgia communities; Albany, Augusta, Austell, Blackshear, Bloomingdale, Brunswick, Calhoun, Columbus, Conley, Dacula, Griffin, Jefferson, Kennesaw, Macon, Resaca, Savannah, Statesboro, Tifton, Valdosta, Washington and Waycross.