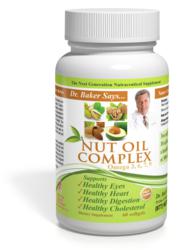 Two softgels at 10 calories equals a handful of nuts at 300 calories!
Hathorne, MA (PRWEB) May 09, 2012
For millions of years, human ancestors thrived mostly on nuts, long before fish was introduced into our diet. Nuts have been a food source during human evolution and our bodies have adapted to their nutritious benefits.
The American Medical Association and the United States Department of Agriculture recommends a handful of nuts every day. There are numerous health benefits to eating nuts every day. The health benefits include, but are not limited to:
Reduces Risk of Cardiovascular Disease
Reduces Risk of Coronary Heart Disease (CHD)
Lowers LDL, the bad cholesterol
Protects Against Anti-inflammatory Disease Mortality
Reduces Risk of Diabetes
Reduces Incidence of Gallstones and Gallbladder Disease
Promotes Healthy Bones
Promotes Healthy Digestion
Enhances Fertility
Promotes Healthy Nerve Function
Promotes Healthy Eyes
Nuts are a healthy food source because they contain numerous essential fatty acid oils. Essential means the human body requires them, because our bodies cannot produce them. Dr. Baker Says Nut Oil Complex contains nine essential fatty acid oils. They are:
Palmitic Acid
Palmitoleic Acid (omega 7)
Heptadecanoic Acid
Stearic Acid
Linoleic Acid (omega 6)
Oleic Acid (omega 9)
Alpha-Linolenic Acid (omega 3)
Arachnidic Acid
Eicosenoic Acid
Most of these essential fatty acids cannot be found anywhere but nuts. However, a handful of nuts is 300 calories and can be fattening. Dr. Baker invented and patented a process where all the nutrients in a handful of nuts was extracted and compressed into 2 softgel capsules at only 10 calories!
Dr. Baker has been on the staff of the Department of Ophthalmology at the Massachusetts Eye and Ear Infirmary in Boston since 1985. He is an optometrist specializing in Vision Care for the Deaf. He has seen many unique and rare cases, and many involve deaf people becoming blind from a variety of disorders, with one of them being Usher's Syndrome. He has researched extensively into helping his Usher's Syndrome patients retain useful vision for as long as possible and learned that proper diet was the best solution.
Dr. Baker Says Nut Oil Complex is truly innovative and is the first of its kind. It's never been done before.