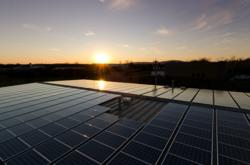 "The entire VEP team is incredibly proud of this project," said Jim LaFleur, CEO of Vanguard Energy Partners. "Our solar array will generate enough clean energy to supply over 90% of our facility's electric needs."
Branchburg, NJ (PRWEB) May 03, 2012
Vanguard Energy Partners, a national solar construction firm, today announced the completion of a rooftop solar array at their corporate headquarters in Branchburg, New Jersey. Vanguard, which recently completed the highest solar array in the world, began construction on their own 134.16 kW roof mount solar system in August 2011. 100% of the components utilized to construct VEP's system were made in the USA.
"The entire VEP team is incredibly proud of this project," said Jim LaFleur, CEO of Vanguard Energy Partners. "Our solar array will generate enough clean energy to supply over 90% of our facility's electric needs."
The solar array, designed and built by Vanguard, is estimated to produce 165,280 kWh of energy in the first year, which is equivalent to saving 12,777 gallons of gasoline or preserving 24.3 acres of pine forests.
About Vanguard Energy Partners
Vanguard Energy Partners, a national construction firm, specializes in the design-build of commercial solar systems and maintenance services. Vanguard is rapidly growing nationwide with over 50 MW of solar PV projects completed or under construction since 2003, and over 55 MW of solar projects being monitored and maintained by the VEP Energy Maintenance Solutions Division.