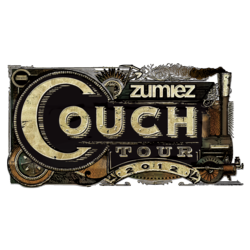 Everett, WA (PRWEB) May 03, 2012
http://www.zumiezcouchtour.com
Zumiez, a leading specialty action sports retailer, is bringing the boom to a town near you this summer with the 12th Annual Zumiez Couch Tour. The Zumiez Couch Tour 2012 features skateboarding demos by pros Justin Brock, Mike Mo Capaldi, Chris Cole, Erik Ellington, Cairo Foster, David Gonzalez, Eric Koston, PJ Ladd, Sean Malto, Billy Marks, Rodney Mullen, Chad Muska, Luan Oliveira, Torey Pudwill, Paul Rodriguez, Leo Romero, Geoff Rowley, Tommy Sandoval, Daewon Song, Jamie Thomas, Ishod Wair, Neen Williams, Stevie Williams and many more.*
The Zumiez Couch Tour also offers free live music performances by bands including We Came As Romans, Set Your Goals, The Wonder Years, The Cab, A Skylit Drive, The Classic Crime, Conditions and Daytrader.
The tour hits 12 cities with skate demos from the Plan B, Almost, Enjoi, Toy Machine, Zero, DGK, Girl, Flip, Volcom, Real, Supra and KR3W skate teams. Admission to tour stops is free. Prospectors who flock to the site can stake their claim on a mother lode of prizes and giveaways from tour partners Neff, Oakley, Skullcandy, Transworld SKATEboarding, and Ustream. The events also feature skate team autograph signings, an interactive festival area and a day full of fun, free of charge!
Joining Zumiez Couch Tour for the sixth year in a row is the Zumiez Best Foot Forward Am Contest Series 2012 Presented by Bones Bearings; A jam format contest for up and coming skaters looking for their own share. The Best Foot Forward series starts on May 9th in Milwaukee, WI, with six additional renegade stops taking place in Indianapolis, IN on May 11th, Atlanta, GA on May 13th, Kansas City, KS on May 16th, Tulsa, OK on May 18th, Phoenix, AZ on May 21st, Las Vegas, NV on May 23rd, and then meets up with all 12 stops of the Zumiez Couch Tour. Each Best Foot Forward stop includes a local open qualifier for the first 20 skaters to pre-register online at http://www.zumiezbestfootforward.com. The top amateur skater from each of the 19 Best Foot Forward contest stops will get an all expense paid trip to the Zumiez Couch Tour's final stop in Bloomington, MN, to compete in the Best Foot Forward Finals on June 26th, 2012. The Top 3 finalists will win a trip to Los Angeles to film at famous skate spots, get exclusive experiences from tour partners, compete in the Hometown Heroes Finals at Summer X Games 18 and receive a 1 year flow sponsorship from Bones Bearings.
http://www.zumiezcouchtour.com
About Zumiez Inc.
Zumiez is the leading mall-based retailer of action sports clothing, footwear, equipment and accessories. Everything we do— from the brands and styles we carry, to the environment in our stores, to the events we create and partner with— is focused on supporting and promoting action sports and the action sports lifestyle. Our website is http://www.zumiez.com.