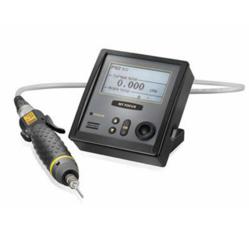 It's all about having the right torque screwdriver for the job.
San Diego, CA (PRWEB) May 02, 2012
Over 50% of the manufacturing companies in the United States who require torque controlled tools in their assembly process are using the wrong tools. Manufacturing companies are overlooking a lot when it comes to adding the right torque screwdriver to their process.
There's a lot more to a torque screwdriver than companies take into account. The biggest misunderstanding is that simply adding a torque screwdriver to an assembly line will solve the problem yet there is a lot more that needs to be taken into consideration.
Here are the top 4 dangers of using the wrong torque screwdriver:
1. Safety – Using a torque screwdriver on the wrong application can cause a serious injury to the operator. The biggest safety issue is using a torque screwdriver on a high torque application. It is highly recommended the torque screwdriver be mounted to a torque arm, otherwise the torque reaction is transferred to the operator which can cause a repetitive strain injury.
2. Cost – Given the current economic conditions, manufacturing companies in the United States are extremely cost conscious but the price tag of using the wrong torque screwdriver can be up to 5 times the initial purchase amount. An inexpensive and low quality tool can breakdown causing down time and adding to unnecessary repair costs.
3. Quality Control – A torque screwdriver on the right fastening application where a specific torque value is required will ensure the assembly process yields a high quality product. A clutch control torque screwdriver provides basic torque control however critical applications should be using a DC transducerized torque screwdriver. Taking the guess work out of "did I tighten the screws correctly?" is a very important part of quality control.
4. Productivity – A decrease in productivity can be costly to any company. The wrong tools can wreak havoc on an assembly process causing a decrease in operator productivity and moral. Providing operators with the right tools can significantly increase productivity.
Even with all these risks, it's surprising why some companies are still using old technology, un-calibrated tools, or conventional screwdrivers.
Eddie Silverberg, President of Flexible Assembly Systems commented, "It's all about having the right torque screwdriver for the job." He adds, "It's my hope that companies will start to weigh the risks of using the wrong torque screwdrivers and start investing in their assembly process. A way to do this is by contacting our staff at Flexible Assembly for assistance in selecting the right torque screwdriver."
To learn more about Flexible Assembly Systems please visit http://www.FlexibleAssembly.com
About Flexible Assembly Systems
Flexible Assembly Systems Inc., headquartered in San Diego, is a leading international distributor and supplier of light industry assembly tools and systems. Companies worldwide have turned to Flexible Assembly for help in meeting their assembly and production needs. If your company is in need of electric screwdrivers, pneumatic screwdrivers, torque testers, torque screwdrivers, automotive tools, finishing equipment, ergonomic handling and lifting systems, or service and support on existing equipment, let the experienced and knowledgeable staff at Flexible help you.