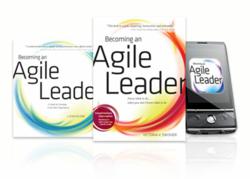 "Learning Agility allows us to focus on what matters most when it comes to development and matching talent to specific opportunities, new roles or projects," said Sandra Stenico, SVP, Talent Management and Organization Effectiveness at Kraft Foods
Los Angeles, CA (PRWEB) May 03, 2012
Korn/Ferry International today announced the release of the talent-development industry's first comprehensive book, companion guide and accompanying web app for the identification and development of Learning Agility, a proven success differentiator in leadership and in life.
Learning Agility is the ability and willingness to learn from experience and subsequently apply that learning to perform successfully under new or first-time conditions. First coined in the late 1980s, the concept has long been viewed as the best indicator of employee potential, and is used by many Fortune 500 companies in succession planning and recruiting.
"Learning Agility allows us to focus on what matters most when it comes to development and matching talent to specific opportunities, new roles or projects," said Sandra Stenico, Senior Vice President, Talent Management and Organization Effectiveness at Kraft Foods.
Korn/Ferry estimates that less than 15 percent of business professionals globally demonstrate high levels of Learning Agility. With the introduction of the Becoming an Agile Leader suite, both executives and employees alike are able to develop their personal Learning Agility by first cultivating the right experiences, then distilling those experiences into principles that can be applied to future challenges.
"People high in Learning Agility continuously seek new experiences from which to draw valuable lessons," says book author Victoria V. Swisher, a senior intellectual property development consultant at Korn/Ferry. "Jobs these days are becoming more complex and it is increasingly rare that people come into new roles knowing it all. The critical factor when hired or promoted today lies in knowing what to do when you don't know what to do."
Becoming an Agile Leader, which includes a complimentary journaling web app, defines and explores the 5 aspects of Learning Agility and identifies real-life examples exceptional business, political and cultural leaders who exemplify each factor. The companion guide examines the formative events that shaped the lives of these leaders, then takes readers through a series of hands-on exercises to help them extract lessons from their own past experiences and prep for future assignments.
Additional Resources and Information on Becoming an Agile Leader
Orders for print copies of the Becoming an Agile Leader book ($24.95) and companion guide ($29.95) may be placed online at store.lominger.com. The web app is offered exclusively as a complimentary subscription with the purchase of the book. The book and companion guide are also being offered as a special introductory package for $49.95 (save $5.00). Digital versions of the book and guide will also be available for purchase on Amazon.com and the Apple store.
The book will be published in eight languages: English, Spanish, French, German, Italian, Simplified Chinese, Brazilian Portuguese, and Japanese, while the guide and web app are published exclusively in English. To read a sample chapter of the book or the guide, or to register for a complimentary Learning Agility webinar, visit http://www.lominger.com/AgileLeader.
Testimonials on the Book
"The combination of content – between intersecting examples of people who made a difference to the world and well-documented leadership research – makes this book an ideal inspiration and toolkit for anyone who wants to improve and sustain performance of themselves, employees, teams, or organizations." – Mogens Raun, Senior Vice President, Head of Talent Development, Allianz SE
"A practical and compelling guide to achieving great results in new and different situations – equally useful for people, leaders and team members alike. A fantastic resource!" – Heather Barnfield, Vice President Talent Engagement & Mobility, Aviva North America
"This book is a gem…inspiring, instructive, and actionable." – Dave Ulrich, best-selling author of The Why of Work
"I can't think of a more timely book to offer the corporate world a beacon of hope amidst unsettling economic times. Becoming an Agile Leader provides a profoundly insightful and practical guide for recognizing and developing future distinctive leadership talent." – Ronny Vansteenkiste, Senior Vice President, Group Head Talent Management and Organization Development, Willis Group Holdings
About Korn/Ferry International
Korn/Ferry International is a premier global provider of talent management solutions, with a presence throughout the Americas, Asia Pacific, Europe, the Middle East and Africa. The firm delivers services and solutions that help clients cultivate greatness through the attraction, engagement, development and retention of their talent. Visit http://www.kornferry.com for more information on Korn/Ferry International, and http://www.kornferryinstitute.com for thought leadership, intellectual property and research.