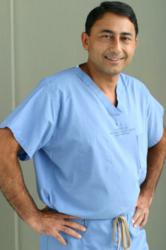 Prelex and Lasik are great alternatives and can truly help aid Parkinson's patients by providing immensely improved vision, and the freedom to not worry about holding, putting on, losing, or locating glasses or contacts - Dr. Khanna
Los Angeles, CA (PRWEB) May 05, 2012
Corneal specialist Dr. Rajesh Khanna is one of the leading pioneers of Lasik surgery. He has been performing surgical eye procedures and specializing in eye care for over twenty years. He has helped patients suffering from various eye disorders and diseases and through his expertise he has recently made an astounding discovery. Dr. Khanna has found that patients suffering from Parkinson's disease may benefit from Prelex or Lasik eye surgery. Parkinson's disease is a motor functioning disorder and occurs when there is a problem with a specific nerve cell in the brain.
Parkinson's disease is defined as the inability of the nerve cells to produce dopamine, a chemical which tells the body to move. When these cells are affected the body cannot move properly. Parkinson's is a slow process, occurring over time. The symptoms of Parkinson's include; tremors, a shaking or trembling of the body. Tremors may affect ones hands, arms, or legs. Additional symptoms include, stiff muscles, slow movement, and problems with balance or walking. These tremors and slow movement can cause much difficulty for patients that need to wear glasses or contact lenses. Also the slow movement may mean that it takes extensive time to walk to the glasses or contacts. Dr. Khanna suggests that Prelex or Lasik treatment may be a great option for these patients. After surgery, vision will be drastically improved and patients will not need to bother with the hassle of glasses or contacts. For those that are between the ages of 18 to 40, Lasik is a great alternative. Over the past few years Lasik has become the most desired procedure in the country. Dr. Khanna offers the most modern Lasik technology, the procedure itself takes only 15 minutes per eye and has an extremely quick recovery.
For patients over the age of 45 Prelex is a great alternative. Unlike traditional vision correction procedures, prelex corrects nearsightedness and farsightedness by replacing the eye's natural dysfunctional lens with a special presbyopic intra-ocular lens, such as the restor aspheric or crystalens HD. Prelex is a great alternative for people who do not medically qualify for Lasik or other refractive surgeries, have early signs of cataracts, would like to depend less on bifocals or reading glasses, or are severely nearsighted or farsighted. Almost all people who have PRELEX will not need glasses for distance or reading. An advantage to Prelex is that cataracts are prevented, as one cannot form in an artificial lens. Overall prelex and lasik are great alternatives and can truly help aid Parkinson's patients by providing immensely improved vision, and the freedom to not worry about holding, putting on, losing, or locating glasses or contacts.
The Khanna Institute maintains two locations in California for patient convenience. One is located at 240 S. La Cienega Blvd., #250 in Beverly Hills and the second is at 179 Auburn Court #1 in Westlake Village.
ABOUT RAJESH KHANNA
Dr. Rajesh Khanna is an internationally recognized LASIK and refractive vision care specialist, and the team ophthalmologist for the Men's USA Water Polo Team. He graduated among the top of his class in medical school and is a member of the UCLA faculty. Utilizing his skills to instruct a new generation of eye surgeons on the safest and most effective techniques and procedures, he pioneered many of today's techniques in LASIK and refractive surgery. Khanna invented a variety of instruments to aid in surgeries and speaks at a myriad of national and international professional venues each year. He participates in refractive surgery conferences and wet labs worldwide. Featured extensively in print and broadcast media, he's received prestigious awards and honors from the World Health Organization. He's a member of the American Medical Association, the prestigious American Academy of Ophthalmology and the American Society of Cataract and Refractive Surgery, and certified by the American Board of Ophthalmology.