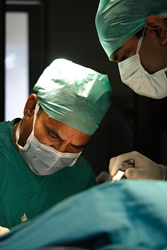 Most states in the USA have more rigid laws regarding full disclosure when selling a home than what is required of a surgeon regarding full disclosure to his patient prior to a surgical procedure.
(PRWEB) May 11, 2012
Activist Karen Steward expressed concern today that women having a hysterectomy may not be aware of the link between this widely performed procedure and intra-abdominal adhesions. Abdominal hysterectomy, or open surgery to remove the uterus, is one of the leading causes of surgical adhesions among women, notes Carol Burke, RNC-OB, ANP in an article published in the February 2012 issue of "Nursing for Women's Health." During a traditional open surgery, or laparotomy, the internal organs are exposed to blood, surgical equipment, gloves and sponges. Contact with these materials can injure the delicate membranes that protect the internal tissues, causing scar tissue to form. After surgery, as scar tissue develops, the abdominal and pelvic organs may become tethered by adhesions, causing complications like bowel obstruction, bowel strangulation and infertility. Symptoms of adhesions include abdominal pain, a sense of constriction in the torso, constipation, diarrhea, vomiting and nausea.
After cesarean sections, hysterectomy is the second most common surgery performed among women in their reproductive years, according to the Centers for Disease Control and Prevention. In a study published in "Obstetrics & Gynecology," Mohammed Al-Sunaidi, MD and colleagues studied a group of women to evaluate the occurrence of small bowel obstruction after hysterectomy. Out of 326 women admitted to the hospital with a diagnosis of small bowel obstruction, 135 cases were related to intra-abdominal adhesions, and gynecologic surgeries were the most significant factor in the occurrence of bowel obstruction.
The McGill University researchers also found that adhesions occurred primarily in women who had had a total abdominal hysterectomy with open surgery, or laparotomy. By comparison, women who had a laparoscopic supracervical hysterectomy rarely had small bowel obstruction. Laparoscopy, a minimally invasive surgical technique that relies on the use of a small camera to view and manipulate the internal organs, may lower the risk of adhesion formation and small bowel obstruction during hysterectomy, the authors proposed.
According to Karen Steward, an author and activist who works to promote awareness of Adhesion Related Disorder (ARD), the relationship between hysterectomies, adhesions and small bowel obstruction is too strong to ignore. "Women who aren't informed of the risk of adhesions before a hysterectomy may not be aware of the signs of a bowel obstruction if they occur. Women should also be aware that they may reduce the risk of adhesions by having laparoscopic surgery instead of an open hysterectomy," Steward stated.
In the McGill University study, many of the women did not experience a small bowel obstruction until several years after surgery. A small bowel obstruction may occur when adhesions block the intestinal tract or cause kinking or twisting in the intestines. Abdominal pain, vomiting, constipation, bloating and nausea are among the symptoms of a small bowel obstruction. If not promptly treated, a bowel obstruction may be life-threatening.
As Burke notes, adhesion risk is not usually part of the informed consent process, but Steward wants this to change. "Given that hysterectomy is one of the most frequently performed surgeries in the United States, and that adhesion formation after a hysterectomy is very common, I believe that surgeons have an ethical obligation to inform patients of their risks and options," said Steward.
Karen Steward is the author of the book Doctors: Bound By Secrecy? Victims: Bound By Pain! Steward's daughter, Melissa, suddenly became ill at age thirteen. Originally diagnosed with Crohn's disease and sent home to live with the excruciating abdominal "attacks," Steward became convinced her daughter had been misdiagnosed. Uncovering the truth behind the illness, however, was a nightmare. Fourteen years passed before Melissa was properly diagnosed, yet a mere four-hour surgery relieved her daughter of the agonizing condition. Steward now dedicates much of her life to ARD awareness.