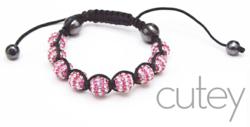 Our charm bracelets have proven a huge hit
Leicester, England (PRWEB UK) 3 May 2012
Cutey has today announced the release of their shamballa bracelets with a twist. By integrating two different coloured crystals Cutey has managed to add a unique spin on this already popular product.
The range consists of nine unique styles. Each bracelet containing nine beads made from the very finest materials and glues to ensure a high quality, yet affordable product. Since it's launch Cutey has quickly gained a reputation for quality and has no plans to reduce quality, or affordability.
Cutey is already well know for it's brand of charm bracelets and hopes to repeat the success experienced since their founding in November 2011. Gaining a high approval rate from test markets Cutey expects it's new line of shamballa bracelets to be well revived in both the domestic and international markets.
Company founder Ashley Peach elaborates "Our charm bracelets have proven a huge hit, we hope to repeat this success with our new range of shamballa bracelets with a twist. In 2012 we plan on taking our jewellery to additional wholesale channels to hit a wider range of consumers. We have already planned many partnerships with the fashion community to help push Cutey to new highs in 2012."