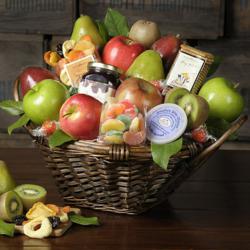 Whether you're selecting that perfect Mother's Day gift for your mother, mother-in-law, grandmother, stepmom, or even that new mother-to-be, The Fruit Company gives you plenty of ways to let her know she's cherished.
Hood River, OR (PRWEB) May 03, 2012
Nothing says "thank you" to mom quite like a fruit basket or tower, filled to the brim with one delicious delicacy after the other. So whether for a mother, mother-in-law, grandmother, stepmom, or even a new mother-to-be, The Fruit Company provides plenty of ways to let mom know she's cherished.
One amazing tribute is The Fruit Company's Mother's Day Deluxe Basket, with orchard fresh fruit and delightful sweet treats including two Green d'Anjou pears, two Navel oranges, one Red Delicious apple, two Fuji apples, one Granny Smith apple, a juicy pineapple and assorted treats including a box of decadent chocolates. It's a value at just $94.95 and a fabulous way to let mom know she's the "apple of your eye".
Or choose the Mother's Day Gourmet Basket for only $89.95. What better way to give back than this stunning gift basket, overflowing with delectable treats: orchard fresh d'Anjou pears, apples, and kiwi, smoky blue cheese and chocolate truffle spread, raspberry preserve on honey wheat crackers and more. Anyone sending this basket is sure to earn the designation as mom's favorite.
To really impress, go for the magnificent 5-box red poppy Mother's Day Classic Tower -- five boxes filled with one sensational treat after the other. Mom will love the three orchard-fresh Columbia Red d'Anjou pears, three delectable Green d'Anjou pears, two crisp Fuji apples, a decadent fudge chocolate ganache brownie, mixed nuts, and sweet gummy fruit slices.
Or think big and select The Fruit Company's newest 8-box Decadent Springtime Tower. This exquisite plaid pear and lavender tower is packed with the finest northwest-grown pears and apples (six Green d'Anjou pears and two blushing Pink Lady apples), gourmet Smoked Gouda cheese with honey wheat crackers, lemon shortbread cookies, Kookaburra green apple licorice, toffee almond crunch popcorn, roasted pistachios, and a paradise tropical trail mix.
Every box and tower includes fruit that is hand-packed and shipped directly to the recipient's door orchard-fresh and ready to savor. They're just a few of the Mother's Day delights offered by The Fruit Company, a leading retailer of freshly harvested orchard fresh fruits and gourmet gifts.
To find out more about The Fruit Company and its wide selection of Mother's Day delights, visit their website at http://www.thefruitcompany.com.
About The Fruit Company:
The Fruit Company, located in the Hood River Valley of Oregon, has dedicated itself to delivering the finest orchard fresh fruit and gourmet gifts. The company heritage, spanning three generations, is focused on delivering the best-tasting, healthy items from their vast product offerings. As one of Oregon's Top 15 growing companies and part of Internet Retailer's Top 50 "Best of Web", The Fruit Company continues to impress and amaze with a wide selection of gift items -- for all occasions -- shipped throughout the United States. Today they are one of the top gift basket companies and employ more than 200 people during their peak season. For more information on The Fruit Company's gift selections and sustainable practices, please visit their website at http://www.thefruitcompany.com.