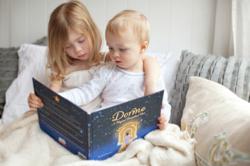 "Dorme is a special and sweet film that brings the magic of the dream world that is filled with joy and possibility."

—Mariel Hemmingway, Spiritual Cinema Circle Spokesperson/Academy Award-nominated actress
San Francisco, CA (PRWEB) May 03, 2012
The day writer and filmmaker Sylvia Binsfeld heard the Brazilian lullaby Dorme, by chance while filming in a children's clothing boutique, she had no idea of the turn her life would take and the journey she was about to embark on. Instantly carried away by the mesmerizing melody, she bought the CD on the spot. While lying on her bed that night listening to the melody and watching her baby sleep, mom Sylvia Binsfeld thought about how fast kids grow up, and how different things are these days for children from when she was a child.
"The world has become so noisy and fast-paced, with information coming at us from all sides. Children are inundated with adult information, even in media that is supposedly intended for them. They are exposed to negative messages on television and elsewhere. That's not good for their spirit. Listening to the enchanting lullaby Dorme brought back memories from my own childhood, and I wanted to create something to recapture that sense of innocence and magical imagination for children today. I liked the idea of giving children positive messages right before drifting into sleep, to counteract all that sometimes scary information. So I got in touch with nine-time platinum musician Arnaldo Antunes, who composed the song Dorme, and told him about my idea for a visual lullaby film. We created an agreement, and my incredible odyssey began," explains Binsfeld.
Binsfeld admits that, even with her film background, she couldn't have known just how difficult the task would be to create Dorme, which she wanted to keep natural and organic-looking, despite the special effects required for the fantasy elements. Dorme was her first live-action and animation combined film. A brief seven minutes in length, Dorme took longer to produce than a featurette she had worked on. "On my budget, I had to fight hard to get the high quality I wanted and to keep it true to my vision. I did much of the work myself, plus I stayed intimately involved with every step of the process." Although the film attracted a fantastic pool of talent, and some were willing to discount their rates a little for the project, such as cinematographer Svetlana Cvetko whose work won an academy award, there were major hurdles along the way. For example, Binsfeld used over 100 special effects to create the spiritually moving dreamland fantasy. She recalls, "But then I had to take the film away from the people originally working on the effects after six months and struggle to start over, with my gem-of-a-find, FX guru Steve Wright. I went through scary times financially, and ultimately ended up selling my home and living in two rooms to finish the project, with the conviction that once it got out into the world, I would make sure it was the beginning of something wonderful for my baby and me as well. The first book set is the foundation to build on. I plan on doing a series. Now the irony is that the word dorme means sleep, but once I started working on the film, I stopped getting any sleep—I lived on four or five hours sleep a night for over a year and a half…and then the real work began!"
Before she started working with film, Binsfeld attended the Academy of Art in San Francisco, with the intention of becoming a children's book author/illustrator. "Books have been my first love," says Binsfeld. "As someone who can't walk anywhere near a bookstore without going in to unearth some treasure, from the start I knew this enchanting story I had in my head would become a children's book." To illustrate the book, Dorme: A Magical Dreamland Visit, she worked with images from the film, which by now had premiered at the Tribeca Film Festival. The film was invited to appear in another 37 festivals, and won best film at the Wine Country Film Festival, the audience award at the Danville International Children's Film Festival and two national awards, the Telly Award and the KIDS FIRST! Coalition for Quality Children's Media Award.
From the fan mail she was receiving, Binsfeld was surprised to discover that Dorme, the film, was striking a chord in both children and adults! Dorme recalled for them a feeling of hope, innocence and the magical imagination of childhood that we often lose touch with in adulthood. People also loved discovering the hidden dream meanings.
Although she was delighted to have re-created those feelings for so many people through the film, Binsfeld knew that the picture book would focus on a much smaller age group, ages 2 to 7. Spinning the story took time, since the messages in the book needed to match the mood in the film. "I wanted the text to be a little melodic, to match the lullaby feeling."
The book Dorme: A Magical Dreamland Visit was another major labor of love for Binsfeld. Together with the tranquil, short visual lullaby film, the book will help kids with the transition from a busy day, to the quiet of the night and make bedtime something to look forward to…for both parents and children. And the book is meant to encourage a love for reading and exploring in a child. Weaving together the wisdom found in our subconscious with the magical imagination of childhood, Dorme: A Magical Dreamland Visit creates a fantastical journey that's sure to be a favorite with everyone who opens its pages.
To learn more go to: http://www.OwlAndTheTigerDreamPress.com
Available at: http://www.amazon.com/Dorme-A-Magical-Dreamland-Visit/dp/0983704805/ref=sr_1_sc_1?ie=UTF8&qid=1336150344&sr=8-1-spell