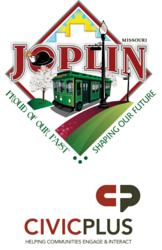 "This Hackathon is another form of rebuilding Joplin… It's helping us to rebuild Joplin's digital home."
Manhattan, KS (PRWEB) May 02, 2012
The Joplin Hackathon held the last weekend in April to develop a new government website for the city that was ravaged by an EF-5 tornado nearly a year ago, reached a successful conclusion Sunday evening, April 29. Nine teams of Midwest designers and programmers armed with laptops, headphones and a packet of criteria from city officials worked tirelessly during the weekend competition sponsored by CivicPlus, the leading developer of comprehensive community engagement websites for local government.
In the year since the tornado took more than 160 lives in Joplin, the city has focused on the continuous job of rebuilding houses, businesses and its community. According to Joplin Mayor Melodee Colbert-Kean, "This Hackathon is another form of rebuilding Joplin… It's helping us to rebuild Joplin's digital home."
Teams were tasked to build innovative solutions in three areas: overall web design, functionality for emergency management and functionality for community engagement. Judges from the City of Joplin, Joplin Chamber of Commerce, GovLoop.com and CivicPlus determined the winning entries. "The talent showcased this weekend was amazing," said Hackathon Judge Brian Rempe, chief technology/ strategy officer for CivicPlus. "The first place teams were only separated by a point or two from their competitors. Everyone should feel good about what they did here for Joplin."
First and second place teams in the three categories of judging follow. Participant names and more information about the event are available at joplinhackathon.com.
Emergency Management Functionality
1st place: Team Mizzou, University of Missouri, Columbia, MO
2nd place: Team CP5, CivicPlus, Manhattan, KS
Community Engagement Functionality
1st place: Southwest Baptist University, Boliver, MO
2nd place: Team Caffeine Headache, CivicPlus, Manhattan, KS
Web Design
1st place: Team Runyan, CivicPlus, Manhattan, KS
2nd Place: Team Track Pack, CivicPlus, Manhattan, KS
CivicPlus will populate the new site in time for the commemorative events taking place during Joplin's first anniversary of the May 22nd tornado with support from its Content team. Many were on site during the Hackathon to meet with city leaders throughout the weekend to orchestrate content migration from the seven different websites the City will house under its single redesigned website.
CivicPlus is donating over a million dollars worth of services and support to the City, including its premium website package, best-practice training, 24/7 support, and a waiver of annual maintenance and hosting fees, for as long as the City and CivicPlus remain in partnership.
In an emotional acknowledgement from Mark Morris, the City's director of information systems, each participant was given a "Miracle of the Human Spirit" wristband – designed and given to "people around the world who have expressed their personal commitment to The Miracle of the Human Spirit through their individual offering." All of the Hackathon participants will join the ranks of the more than 135,000 registered volunteers that have helped rebuild Joplin.
About CivicPlus
Based in Manhattan, KS, CivicPlus has designed more than 1,100 local government websites serving 42 million citizens throughout North America. A recipient of the Center for Digital Government's Best Fit Integrator Award for delivering extraordinary digital solutions to public IT projects, CivicPlus transforms municipal websites into powerful two-way communication platforms that let citizens talk to and participate in local government. In 2012, CivicPlus will invest more than $2 million in products, research and development. The innovative CivicPlus Government Content Management System™ now offers more than 60 applications including Citizen Request Tracker, MuniMobile, Facebook and economic development tools. Founded in 2001, CivicPlus was selected by Inc. Magazine as "One of the Fastest-Growing Privately Held Companies in the U.S." in 2011. For more information visit civicplus.com.
###