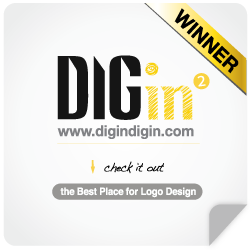 Montreal, Quebec (PRWEB) May 02, 2012
Composed of a massive community of professional designers, DiginDigin aims to provide the finest custom logo designs for clients through the innovative way of crow sourcing contests. Crowd sourcing is an effective and low-cost system where design service would be outsourced to a worldwide pool of graphic artists. As of this writing, DiginDigin has listed a total of thousands of talented logo designers in its community and caters to all types of businesses and industries.
Traditional graphic design companies may ask for thousands of dollars and produce four to five results by a few in-house designers. However with DiginDigin's crowd sourcing contents, the client may receive dozens, or possibly a hundred designs from 40, 50, or even more professional graphic artists, for fees as low as $99. The results come fast, are cheaper, and the client also gets to pick the logo they like most.
True to form, DiginDigin's new version for their website features a clean, polished look that is easy to understand and navigate through. The website's newest feature is a one-minute video illustrating DiginDigin's concept of crowd sourcing competitions and how it may benefit the customer. The video details DiginDigin's three-step process and clients have the freedom to choose their budget. DiginDigin guarantees that if the client is not satisfied with any of the designs, they would get their money back, guaranteed.
More information on how to start the design process is located at the top of the page, along with a link providing clear descriptions of the three steps. The site also features several customer testimonials, providing prospective users a glimpse of the DiginDigin experience.
Clients who want to gauge the talent involved in DiginDigin may look through the links to current active projects. Here, they will see some samples for each design contest, as well as details and specifications such as the budget for that project. Further below are some answers to frequently asked questions about the company and its array of services.
Digindigin is dedicated to listening and providing excellent service to its customers. The site owners promise that more developments are in store and encourage visitors to check with the blog every now and then to see what's new.
For more information, visit DiginDigin.com or call 1-800-553-6040. For details on how to register, visit http://www.digindigin.com