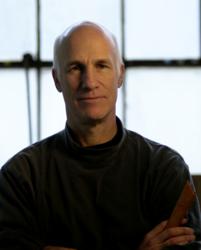 ...always look to the next layer out," Svigals advises his clients, "to reveal potential and leverage it to new heights.
New Haven, CT (PRWEB) May 03, 2012
The architecture firm Svigals + Partners has announced the debut of a new animated short, Weave Our Talents Together, and a companion printed announcement – a sequel to the firm's much-discussed short A Place for Community, which it released in 2011.
The multimedia effort, developed with designer Randall Hoyt, reinforces the 25-person firm's philosophy of creative, high-level collaboration and strategic services for "boundless resources," a signature method for adding real value to client endeavors, thoroughly addressing their challenges and problems, and revealing new potential or growth that can be leveraged to new heights.
Like last year's animated movie, the new stop-action short called Weave our Talents Together continues with the visual theme of animating paper sculptures designed by architect and artist Barry Svigals, FAIA, to illuminate ",the interconnectedness of creative endeavor." In a darkened design studio, colorful paper figures called Beoples – short for "building people" – inspire, "a metaphoric weaving of ideas into the exuberant fabric of community."
"The weaving of ideas is embodied in paper strands that form fingers of hands raised high," says Randall Hoyt, the award-winning artist who collaborates with Svigals. "The word talent finds its ancient roots in business as a measure of value, and what better medium for exchange than our unique abilities woven into the fabric of all projects, great and small."
The new animation is one of many collaborative efforts between Svigals + Partners and Hoyt. Last year, the two collaborated on the four-minute video, A Place for Community, and in 2010, Svigals + Partners was selected a winner in the prestigious 2010 Design Competition by Communication Arts, the largest international trade journal of visual communications, for its inspirational postcard campaign called REJO+CE.
Expressing strategy through art
Svigals + Partners uses these artistic communications to promote their positive messages of collaboration and confluence, as well as to illuminate the successes of the firm's signature approaches. The first, the integration of arts and sculpture into architectural projects, is in evidence in the firm's many award-winning schools, university buildings, laboratories and corporate workplaces. It is also the subject of the firm's new website, http://www.ArchitecturePlusArt.com.
The second offering is the firm's novel Boundless Resources™ methodology, which helps organizations integrate a diversity of interests, talents and professional backgrounds for collaborative ventures and inspire the most creative, comprehensive results.
"Our method in Boundless Resources™ focuses on adding real value to a client's endeavors, which is the key to professional services today," Svigals explains. "It begins with thoroughly addressing the problem as the client has defined it, but it can't end there. An essential dimension of the service we provide must include the next layer out: revealing their existing potential and leveraging it to new heights."
This approach has helped differentiate Svigals + Partners, bringing the firm closer to decision-makers at high-tech companies, school districts, global corporations and even local not-for-profits.
"Too often, in trying to solve the first request – to address the client's key challenge – designers fail to fully explore fertile territory found in the context of all dynamic solutions: the overlapping ecologies of which it is a part," says Svigals. "This exploration may appear to expand beyond the initial request, but it's power emerges precisely from a wider lens identifying synergistic relationships which, in turn, offer an exponential return on even the most modest investment."
"So always look to the next layer out," Svigals advises his clients, "and then the one beyond that."
Communicating through film
Combined with the 2011 stop-action short, the campaign delivers a visual allegory of the resonant themes within the Svigals + Partners methodology, including community, collaboration, energy and delight, to name a few. In vivid contrast to the usual promotional photographs of beautiful buildings typically sent out by architectural firms, Svigals + Partners continues to express a vision of its practice through the deeper metaphors of a fable – stories of boundlessness, renewal and shared goals.
The films Weave Our Talents Together (2012) and A Place for Community (2011) and the REJO+CE photographs and mailers can be viewed at the firm's dedicated website, http://www.architectureplusart.com.
"We invite everyone to share their gifts with others around them," said Svigals. "Like our architectural work, these messages are meant to delight and to inspire."
###
For more information, images and interviews, please contact
Chris Sullivan at (914) 462-2096 or by email, chris(at)ccsullivan(dot)com.
About Svigals + Partners
Based in New Haven, Connecticut, the full-service architecture and planning firm Svigals + Partners has specialized in the design and construction of educational facilities since its inception in 1983. Known for its original and imaginative integration of planning, design, sculpture and artwork, the firm is committed to "bringing the beauty, relevance and distinction of figurative art into the architecture of the 21st century." Svigals + Partners offers a complete range of architectural services from master planning, site selection and feasibility studies through design and construction. In the firm's portfolio are major K-8 educational projects as well as 25 years of new and renovated university buildings. Other areas of specialization include laboratories, corporate facilities and master planning. For more information, visit http://www.svigals.com.
About Barry Svigals, FAIA, Founder
Barry Svigals is an architect and sculptor recognized for his unique contribution to the field as he was elevated to the prestigious Fellowship of the American Institute of Architects (FAIA) in 2007. Svigals has been honored with many top professional awards throughout his career, including the 2004 American School & University Louis I. Kahn Citation; a 2003 Connecticut Inner City 10 Entrepreneurship Award; the 2002 International Masonry Institute Golden Trowel Award; the 2000 AIA Connecticut Drawing Award; and the AIA CT Emerging Architect Award in 1990. A member of the American Institute of Architects, Svigals is a faculty member of the Yale School of Architecture, New Haven, and was previously a visiting critic and lecturer at the Unite Pedagogique d'Architecture, Charenton, France. He has conducted conferences on facility planning for creative enterprises at the Graduate School of Business at Harvard University and at Stanford University. Svigals was formerly chair of the City of New Haven's Cultural Affairs Commission and recently served as the president of ARTSPACE, a non-profit performing and visual art center in New Haven.