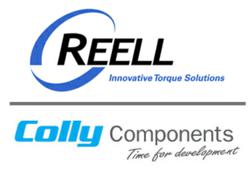 Saint Paul, MN (PRWEB) May 09, 2012
Reell Precision Manufacturing, a world leader in small package position control, is pleased to announce that, beginning immediately, Colly Components AB of Kista, Sweden will represent Reell products and services in Northern Europe.
Since it's founding more than 50 years ago, Colly Components has developed an outstanding expertise in supplying complete function-based solutions for the industry. They bring a strong technical sales expertise and full service capabilities to the companies they work with.
Reell VP of Sales and Customer Service Jack Field is excited about the new partnership, "we are very pleased that Colly has joined the Reell sales and marketing team. They offer the strong technical expertise and relational selling capability that is needed to promote Reell products. They have a strong market knowledge and are responsive to customer needs, making them outstanding partners to represent Reell."
Reell Precision Manufacturing provides high-quality innovative solutions to transmit torque, control angular position and protect delicate components from excessive force. Combining the worlds most precisely controlled torque technology with the industry's most experienced engineering team provides a perfect product fit in customer applications. Reell's patented technology is widely used in the consumer electronics, automotive, office automation, and medical industries.
Follow Reell on twitter: @reell