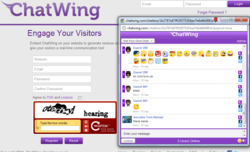 Honolulu, HI (PRWEB) May 02, 2012
Chatwing is now ready to help out health advocates with the latest development of its chat box. Today, Chatwing is faster, more stable, and allows high rate of customization for all of its users. Chatwing still operates under the freemium business model and is gradually generating sign-ups from many parts of the world.
Chatwing chatrooms may be similar to other chat applications in cyberspace, but it has a higher rate of connection and speed. Aside from its simplicity, Chatwing also has a Facebook integration method. Through this, guests and visitors can now log in using their Facebook accounts. This type of integration would have affected Chatwing's connection speed, but the developers were witty enough to make the platform stable for many users logging in simultaneously.
Various health blogs can benefit a lot from Chatwing. First, the visitors will now have a stable avenue of communication with the health bloggers. They can now post their questions through the shout box and the bloggers will answer them in real-time. Second, the visitors can give out their suggestions to the health bloggers. Last, visitors can exchange health tips with each other and they can also exchange Facebook accounts. This rate of activity can greatly increase the online presence of a health blog.
To install the Chatwing website chat tool, the user must register his blog's domain name. After that, he can now proceed to customization. He can edit the size and appearance of the widget. Also, he can also choose a title that can fit the theme of his blog. Once everything is complete, he can now get the needed HTML code and embed it to the blog's custom design panel.
Chatwing users can also take advantage of the wide array of emoticons and avatar displays available. In the latest Chatwing release, the avatar display is smaller so that more messages can fit in the chat panel.
About Chatwing
Chatwing.com is a free shout box for all web pages or blogs. It also lets anyone create free chatrooms on any website or blog. The Chatwing.com website offers users the ability to signup and create a customizable live chat box instantly with few details. Users have the ability to select the size, dimensions, and colors of the shout box. The ability to live chat with Facebook, Twitter or guest avatars is a unique feature which includes social sharing features in real-time. Chatwing is free chatroom software available to any user.