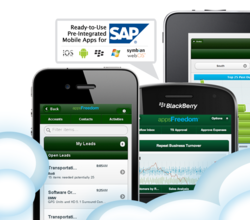 Our app bundles are designed to focus on areas where mobility has the greatest impact on productivity and revenue, such as shorter sales cycles, improved customer support, faster response times, better decisioning and streamlined daily workflow.
Chandler, Arizona (PRWEB) May 04, 2012
appsFreedom™, a leading provider of cloud-based enterprise mobility solutions, announced today the release of five new app bundles developed to give key business functions across an organization the ability to transact in SAP® in real-time from any smart phone or tablet device.
Each of the five ready-to-use, pre-integrated apps provides access to specific business environments in SAP, giving users the ability to perform a wide variety of secure activities remotely from any device.

executiveFreedom™ – gives management and executives access to analytics and reporting features with real-time business intelligence and workflow approvals.
salesFreedom™ – provides sales professionals with CRM capabilities to manage activities, leads and opportunities, as well as update customer records or view sales analytics.
fieldserviceFreedom™ – gives operations the ability to create and manage service orders and requests on-site or on-the-go.
procurementFreedom™ – provides a way for authorized employees to manage purchase requisitions and orders, shopping carts, goods receipts and approvals.
hrFreedom™ – assists in managing HR tasks such as time sheets, travel expenses, employee self-service, and personnel data.
"Our app bundles are designed to focus on key areas where mobility has the greatest impact on efficiency and business performance," said Vaidy Iyer, CEO of appsFreedom. "appsFreedom customers are able to quickly realize the increased productivity and shorter sales cycles, in addition to cost and time savings."
appsFreedom bundles are ready-to-use, pre-integrated mobile apps that can be delivered within a short implementation window – typically in four weeks or less – since no SAP development or configuration is required. All apps are available on smart phones and tablets with a "pay-as-you-go" (per app/per user) pricing model.
appsFreedom mobile enterprise apps allow companies to cost-effectively deploy multiple, high-touch solutions that have high user adoption rates. As a result, companies quickly recognize benefits such as growing top-line revenue, accelerated sales cycles, increased productivity and reduced costs. Management also has the ability to make faster, more informed decisions with real-time access to KPI's and dashboards.
The Company is currently offering a free JumpStart program through May 31, 2012. Clients that sign up have the opportunity to try appsFreedom in their live SAP environment with their choice of any two apps from any bundle and up to ten users. Clients that roll into an agreement to continue using appsFreedom are credited the full cost of the JumpStart implementation. For more details or to sign up, visit: http://www.appsFreedom.com/pilot.
The Company can be seen at the upcoming SAPPHIRE NOW event, May 14-16 in Orlando (booth 330), and at the IQPC Enterprise Mobility Exchange event in Miami, June 25-27.
//About appsFreedom™//
appsFreedom, a 2011 SAP Pinnacle Award finalist, is a leading provider of cloud-based mobility solutions for the enterprise. The appsFreedom solution offers ready-to-use, pre-integrated apps that give users secure, real-time access to enterprise systems – such as SAP – from any desktop or mobile device including smart phones (e.g. iPhone, BlackBerry, Android), tablets (e.g. iPad, Galaxy, Cius), ultra-books and laptops. Apps are delivered as a service (SaaS model) and are implemented in just weeks since no source system development or configuration is required. The appsFreedom solution offers apps for Sales, Executives, Procurement, HR and Field Services. For more information call 1.855.277.7373 or visit http://www.appsFreedom.com.