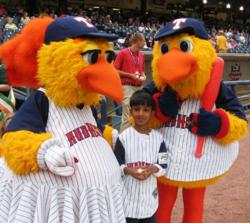 Toledo, OH (PRWEB) May 04, 2012
The Toledo Symphony Orchestra (TSO) presents Take Me Out To The Ball Game with the Toledo Mud Hens on Sunday, May 13 at 3PM in the Toledo Museum of Art Peristyle. Audiences can look forward to special appearances by Muddy and Muddonna and a special orchestra version of "Casey at the Bat."
"The Mud Hens are so excited to partner with the Toledo Symphony Family Series for their "Take Me Out to the Ballgame Concert." It's a fun and unique way to combine two things our community loves….baseball and music. Muddy and Muddonna have been practicing their moves and can't wait to share the stage with the talented symphony musicians." Cheri Pastula, Manager, Community Relations for the Mud Hens.
Preconcert activities begin at 2PM in the Peristyle lobby, and are free with concert ticket purchase. The Toledo Mud Hens will have hands-on activities for children of all ages - coloring sheets, ball toss and photos with the mascots. Muddy and Muddonna will also be making a special appearance during the concert. Look for them on stage!
The Toledo Symphony School of Music (TSSM) will provide live music in the lobby and will perform the National Anthem with the TSO before the concert.
The concert will last approx 1-hour. Tickets are $10 for children and $25 for adults. For more information, call 419-246-8000 or go on-line at http://www.toledosymphony.com.
Also, Family Series subscriptions for the 2012-2013 season are on sale now. Subscribers receive a free child subscription with every adult. Partners for the 2012-2013 season are the Toledo School for the Arts, Toledo Ballet, Toledo Botanical Gardens and Toledo Opera.
The program for Take Me Out to the Ballgame on May 13 is below.
Star Spangled Banner
Charge! Bugler's Dream
Overture – Damn Yankees
Sport Polka
Match Point
National Game March
Casey at the Bat Robert Clemens, narrator
Take Me Out to the Ballgame
Home Stretch
Summon the Heroes