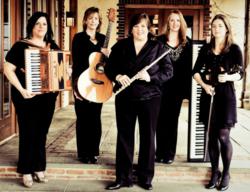 "It is simply impossible to imagine an audience that wouldn't enjoy what they do." - The Boston Globe
LEWISBURG, Pa. (PRWEB) May 03, 2012
Bucknell University and the Weis Center for the Performing Arts will present the inaugural Commencement Concert, a public television event, as part of this year's graduation celebration.
"Bucknell University presents: An Irish Evening with Cherish the Ladies featuring legendary singer Maura O'Connell," will take place on Friday, May 18, at 7 p.m.
This one-of-a-kind concert, which will be filmed by WVIA Public Media Studios in high definition for later distribution to public television stations nationwide, features one of the most engaging ensembles in the history of Irish music plus two-time Grammy-nominated vocalist Maura O'Connell, a special string ensemble, and world-champion Irish dancers.
Cherish the Ladies' 14 critically acclaimed records have earned them worldwide fame and numerous honors, including Grammy nominations and Best Musical Group of the Year by the BBC.
The Boston Globe writes, "It is simply impossible to imagine an audience that wouldn't enjoy what they do," while the Washington Post says they possess "an astonishing array of virtuosity."
Cherish the Ladies' stellar musicianship and passionate entertainment come to Bucknell's magnificent Weis Center with special guest performers for an extraordinary concert.
Cherish the Ladies have shared the stage and studio with such legendary performers as James Taylor, Joan Baez, the Chieftains, Pete Seeger and dozens of renowned orchestras, including the Boston Pops.
Grammy-winner Joanie Madden, one of the world's finest Irish flute players and the leader of Cherish the Ladies, recently toured with Don Henley and the Eagles and is a featured soloist on the final "Lord of the Rings" soundtrack.
Cherish the Ladies features Madden, Mary Coogan on guitar, All-Ireland Champion Mirella Murray on accordion, Gráinne Murphy on fiddle, and Kathleen Boyle on piano. They are joined for this concert event by one of Ireland's finest singers, guest vocalist Maura O'Connell, plus world-champion Irish dancers and a distinguished string ensemble.
Madden and Cherish the Ladies will join the Bucknell community after the concert to celebrate the Class of 2012 at a reception in Sojka Pavilion.
While Bucknell University Class of 2012 graduates may each receive one free ticket, seats will not be reserved and tickets will be distributed on a first-come, first-served basis.
General admission tickets are $25 per person and $10 for college and K-12 students. Advance tickets can be charged through the Campus Box Office or by calling 570-577-1000.
Tickets are available in person from several locations including the Weis Center lobby weekdays 10 a.m. to 4 p.m.; the Barnes & Noble at Bucknell University bookstore in Lewisburg weekdays and Saturday, 11 a.m. to 7 p.m., and Sunday, 12:30 to 4 p.m.; and the CAP Center Box Office, located on the ground floor of the Elaine Langone Center, weekdays, 10 a.m. to 2 p.m.
Tickets also may be purchased one hour prior to the performance.