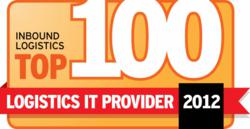 Over the last 12 years C3 has been committed to providing enterprise software for areas of the supply chain that have traditionally been overlooked, Nicholas Couture, President C3 Solutions
Montreal, Quebec (PRWEB) May 03, 2012
C3 Solutions, a provider of software solutions dedicated to the area of yard management and dock scheduling, is proud to announce that it has been selected by Inbound Logistics as one of the Top 100 Logistics IT Providers.
"When choosing this year's Top 100 Logistics IT Providers, Inbound Logistics editors looked for technology providers that solved specific logistics challenges, but also acted as change agents by helping to transform overall business operations. Selections were based on how transformative logistics IT solutions impact all business activities and drive integration across internal processes as well as external processes for vendors and customers", states Felecia Stratton Editor, Inbound Logistics.
C3's Yard Smart product is an advanced, mission critical, enterprise yard management system that enables companies to extend visibility of inventory outside the four walls and maximize the efficiency of their yard operations.
C3 Reservations, C3's dock scheduling system, optimizes the receiving and shipping process by scheduling appointments to the available capacity in the warehouse. Operators can simply apply relevant constraints to ensure that the warehouse receives a balanced schedule that streamlines the operation. C3 Reservations reduces phone calls, faxes and manual emails that are involved with the traditional back and forth of appointment scheduling.
"C3 Solutions was selected because its solutions work tactically to master supply chain transactions, as well as strategically to act as a change agent to drive the enterprise to more closely match demand to supply.", says Stratton. "Inbound Logistics is proud to honor C3 Solutions for innovative solutions empowering logistics and supply chain excellence."
"Over the last 12 years C3 has been committed to providing enterprise software for areas of the supply chain that have traditionally been overlooked. ", says Nicholas Couture President of C3 Solutions. "We are pleased that organizations such as Inbound Logistics have recognized this commitment."
Methodology
Every April, Inbound Logistics editors recognize 100 logistics IT companies that support and enable logistics excellence. Drawn from a pool of more than 300 companies, using questionnaires, personal interviews, and other research, Inbound Logistics selects the Top 100 Logistics IT Providers who are leading the way in 2012. Editors seek to match readers' fast-changing needs to the capabilities of those companies selected. All companies selected reflect leadership by answering Inbound Logistics readers' needs for simplicity, ROI, and efficient implementation.
About Inbound Logistics
Inbound Logistics is the pioneering publication of demand-driven logistics practices, also known as supply chain management. IL's educational mission is to guide businesses to efficiently manage logistics, reduce and speed inventory, and neutralize transportation cost increases by aligning supply to demand and adjusting enterprise functions to support that paradigm shift. More information about demand-driven logistics practices is available at http://www.inboundlogistics.com
About C3 Solutions
C3 Solutions is a leading provider of software solutions dedicated to the area of yard management and dock scheduling. C3's customers are fortune 500 companies in the retail, manufacturing, transportation and post and parcel industries. C3's products include its award winning yard management software, Yard Smart and its on-demand dock scheduling system - C3 Reservations. Founded in 2000 and based in Montreal QC, C3 Solutions has customers in the United States, Canada and Europe. Its web site can be found at http://www.c3solutions.com. For more information on C3's products, schedule a free on-line demonstration .