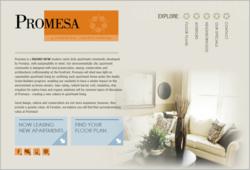 Green and certified by the Austin Energy Green Building Program
Dallas TX (PRWEB) May 04, 2012
Promesa, a premier apartment community, located at 9415 McNeil Drive in Austin, TX, is not only stunning with its rambling ranch styling; it is Green and certified by the Austin Energy Green Building program. Settled in a woodland, Promesa is bordered by Concordia University; it is a short distance from Tom Hughes Park, and it is surrounded by shopping, restaurants, medical facilities, and commerce from the best Austin has to offer.
Promesa has 289 units with six spacious floor plans featuring wood floors, granite counters, stainless steel appliances, hill country views, front-load washer and dryer, and nickel hardware, plus many optional features. Common areas include a pet park, water sports, cardio studio, media room, lounges and a roomy tech center.
The new web site offers visitors a virtual visit to Promesa where they can linger over colorful floor plans with two or three dimensional views, and check exact pricing and availability thanks to a Spherexx.com software integration with Yardi accounting systems. Web site visitors can complete their full application online and the information populates directly into the community's management software for ease of processing.
PromesaLiving.com shows off the new community's classic interior design options, photos, property map, neighborhood attractions and directions, and Internet coupon. Online apartment shoppers can request an appointment in moments—no need to place a phone call. The web site also has a mobile version that automatically populates when accessed by a smart phone.
Residents also have access to great services at PromesaLiving.com. They can pay rent, review their account, request maintenance service, change their address, write a review, reference Q&As, refer a friend, and view a calendar of events.
Promesa also incorporates some sophisticated software to streamline and simplify the leasing experience for both the shopper and the management team. ILoveLeasing.com brings prospect information from multiple web advertisements into one location for quick, impressively packaged information sharing plus an advertising breakdown. The program intuitively collects demographic data and calculates costs per lead, per lease and it makes budget alteration recommendations. Its companion software, SweetSpotDashboard.com, lets agents reference ILoveLeasing.com and other applications on Apple iPad or tablet. It also provides a customer interface where residents or prospects can interact on mobile devices for leasing information, pre-qualifying formulas, complete an application or access resident forms. Thus far, PromesaLiving.com has generated 67% of all leads for the new community.
The architect for Promesa was Kelly Grossman of KellyGrossmanArchitects.com; the interior design was created by Leslie Fossler Interiors, Lfiaustin.com; both companies call Austin home. Tommy Dodd of DoddCreative.com provided signage and Robinson Creative, Inc., RobinsonCreativeInc.com, supplied marketing collateral and print media.
About Spherexx.com ®—Ad Agency | Software Development | Data Centers
Established in 2000, Spherexx.com is recognized as an established leader in the apartment industry website, Internet marketing and software development services. With offices located in Tulsa, Dallas, Austin and Houston, the company has been distinguished as one of INC5000's fastest growing companies.
Spherexx.com offers a wide selection of professional services including web design and development, touch-screen kiosks, Internet lead generation tools, online advertising, apartment leasing consulting, advanced mobile technology, apartment lease-up marketing consulting, and search engine performance. The company also provides branding services, video/multimedia production, print media, and copywriting as well as website and email hosting, database solutions, pay per click, e-commerce solutions and custom programming.
Spherexx.com has developed CRM (customer relationship management) products, marketing and lead generation tools that allow clients to better manage and convert leads to leases and sales. These applications are branded under ILoveLeasing.com; MarketSurveyTools.com, and RentPush.com. Spherexx.com provides web-based prospecting, marketing, advertising management, and support services.
Spherexx.com has provided services to innovative real estate companies like Lincoln Property Company, Capreit, Cottonwood Capital, Forest City Enterprises, JMG Realty, and ZRS Management, LLC. The company represents a collective seventy years of direct, executive level property management experience that readily identifies with the challenges and solutions of multi-family property management professionals.
About Forestar Group
Forestar Group Inc. operates in three business segments: real estate, mineral resources and fiber resources. At year-end 2011, the real estate segment owns directly or through ventures almost 147,000 acres of real estate located in nine states and twelve markets in the U.S. The real estate segment has 16 real estate projects representing almost 27,600 acres currently in the entitlement process, and 75 entitled, developed and under development projects in seven states and eleven markets encompassing over 16,400 acres, comprised of approximately 27,100 residential lots and over 2,400 commercial acres. The mineral resources segment manages about 595,000 net acres of oil and gas mineral interests located principally in Texas, Louisiana, Alabama, and Georgia. Also included in the mineral resources segment is a 45% nonparticipating royalty interest in groundwater produced or withdrawn for commercial purposes from approximately 1.4 million acres in Texas, Louisiana, Georgia and Alabama and about 17,800 acres of groundwater leases in central Texas. The fiber resources segment includes the sale of wood fiber and management of our recreational leases. Forestar's address on the World Wide Web is ForestarGroup.com.