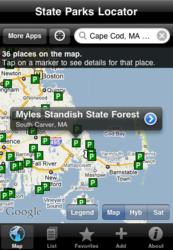 Over 700 million people in the US visit state parks each year. We're hoping the State Parks Locator increases that number.
Reston, Virginia (PRWEB) May 23, 2012
MapMuse today announced a 2012 data update to its State Parks Locator, a popular app for the iPhone, iPad, and iPod Touch that connects outdoor enthusiasts with state parks across America. The app now features nearly 3,200 parks that users can locate, learn about, and contact.
"Over 700 million people in the U.S. visit state parks every year," says MapMuse owner Mike Pilon. "We're hoping the State Parks Locator increases that number." Built on an interactive map populated with icons representing each park, the app allows user to browse parks near their hometown or search for ones far and wide. Tapping a park's icon loads its profile page, which is packed with helpful visitor's information such as headquarter contact details, history, main attractions, web links, Wikipedia links, and photos. Once a user finds a park they'd like to visit, they can get instant in-app driving directions there via Google Maps, or call the visitor's hotline via one-touch dialing for more information. "The goal of the app is to make it as easy as possible for users to get to these parks," says Pilon.
Customer feedback to the State Parks Locator has been overwhelmingly positive so far, with over half of the submitted reviews on iTunes awarding it a perfect five-star rating. An increase in downloads is anticipated by MapMuse in the coming months as the weather warms and park explorers look for new places to visit. Certain interactive features have been included in the app to engage the user base, including the abilities to suggest edits to the map (e.g. park openings and closures), and submit photos and reviews of locations visited. "State Parks Locator is so much more than just a travel guide or a directory," says Pilon. "It's a park review and photo sharing platform too."
The State Parks Locator is available for download on the iTunes app store for $2.99. A Droid version is currently in development, with a projected release coming later this summer. Park explorers without mobile devices can access a free web version of the app on MapMuse's website, which contains the same parks and data, but with less functionality (e.g. no mobile driving directions, dialing, etc.).
MapMuse, an internet and app development company based out of Reston, VA, is an experienced player in the outdoor resource locator market. In addition to the State Parks Locator, they've developed web maps and mobile apps for National Parks, National Recreation Sites, and National Historic and Nature Areas. All of these topics can be added to the State Parks Locator map via in-app purchases.
For more information and a download link for the State Parks Locator, please visit http://www.mapmuse.com/stateparks.
For more information on MapMuse, please visit their homepage at http://www.mapmuse.com.