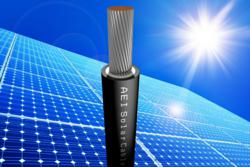 Firetec Impact Power FP cables and our latest solar cables are fitting milestones in our 175-year journey of innovation.
County Durham, UK (PRWEB UK) 4 May 2012
AEI's Firetec Impact Power FP cable is as modern as iPad yet exudes old fashioned British quality as a 600/1000v rated, designed and manufactured to the F120 class of BS 7846 for use as a '120 minute rated' Category 3 power cable under BS 8519. It therefore can also be used for Category 1 and 2 power cables, and complements the Firetec Standard and Firetec Enhanced unarmoured cables for Category 1, 2 and 3 control cables. Properties include LSZH (low smoke, zero halogen) insulation, bedding and outer sheath as well as steel wire armouring able to withstand simultaneous conditions of fire, direct mechanical impact and water impact from fire fighting jets.
This range of polymeric cables is complemented by AEI Mineral Insulated Cable, which operates at a temperature approaching the melting point of copper (1083C) and is the only true fire survival cable. It affords customers more choice in specifying cable for fire safe circuits and puts AEI in a unique position to offer a complete range of fire resistant cables to meet every application.
In addition to fire performance cables, AEI designs and manufactures a full range of elastomeric and thermoplastic cables for voltages up to 20kV, high performance PEEK and ETFE thin wall cables and wires for rail, mining, defence, oil and gas, construction, industrial and power markets.
Clive Sharp, AEI CEO, says, "Firetec Impact Power FP cable and our latest solar cable are fitting milestones in our journey of innovation. A strong R&D focus with research in new polymers, raw materials, cable design and NPD for new applications has resulted in one of the widest cable ranges available in the world. These latest products coupled with a bespoke cable design capability affirm the company credentials as a producer able to fulfil every market need."
Recent AEI projects include the Queen Elizabeth Class Aircraft Carrier Programme; Manchester Airport, Heathrow Terminal 2, Meadowhall Shopping Centre, Chesterfield Hospital, Kettering Hospital, Rotherham Football Stadium; groundbreaking projects overseas such as the Masdar Project and Central Market in Abu Dhabi, the Far East's Wynn Resort in Macau and supplying cables for the Russian and Indian coal mining sector.
AEI Cables is also a key supporter of the Approved Cables Initiative (ACI) which aims to rid the industry of dangerous low grade counterfeit cables and warn about both the physical hazards as well as the inherent litigation risks of installing cable that is not fit for purpose.
Clive emphasises: "As an internationally renowned cable brand AEI holds all the major quality accreditations and works to the highest standards, making it a customer-preferred choice amid fierce international competition where dangerous counterfeit cables are undermining the industry.
"As more counterfeit products enter the system, AEI customers shelter under an umbrella of historic provenance underpinned by rigorous quality management systems, accreditations and technical know-how that has kept the business thriving longer than any other cable company."
Cable specifiers wanting datasheets on AEI's range of fire protection and solar cables can visit http://www.aeicables.co.uk where they can download brochures and use an online cable sizing wizard tool. For more information and to find out the answer about how many miles of cable you can manufacture in 175 years visit AEI's website or contact the Sales Team on +44 (0)191 410 3111.
Boilerplate text:
Today AEI operates from a 20 hectare factory site in Birtley, Co. Durham and its products are approved by independent bodies including BASEC and LPCB covering design, manufacture and supply. The company also holds approvals from Lloyds, MoD, Network Rail and London Underground Ltd, and works to international standards around the world including Cenelec, IEC, ISO, American and Canadian.
In 2007, the company became part of Paramount Communications Ltd, one of India's largest cable manufacturers which adds to the range with a wide variety of specialised cables and wires.