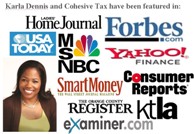 I so enjoyed our appointment with you. We are very excited to map out a financial plan with you. Your character and integrity were so evident. Thank you for making us feel so comfortable.

-Dennis Stevenson - CA
(PRWEB) May 02, 2012
This is an announcement of the latest monthly webinar to be given by one of the nation's foremost tax authorities, Karla Dennis.
Join Karla as she answer tax questions. The public and her clients ask these questions, Karla answers them with authority.
Click Here To Register And Listen To The Webinar
Karla Dennis invites you to a "Just Ask Karla Teleconference: Karla Answers The Most Pressing Tax Season Questions." Karla gets a lot of questions once tax season is over, featuring questions from her clients and the public at large. A lot of the inquiries tend to be similar in nature and of the same topics, so listen as she selects the most pressing questions she has received and answers them as only she can.
In order to benefit form this webinar, anyone interested is encouraged to attend by registering at the link below. It will be available starting at Tuesday May 8th at 5:50pm (Pacific). Click the link above to read about it and sign up to join. It is free for anyone to listen.
Everyone is invited to listen in on this call for free so they can learn the most common issues that many have after the hectic tax preparation season, and so they can learn what to do if any of the common situations apply to them.
Karla Dennis is CEO and owner of Cohesive Tax™, a tax consultant firm.