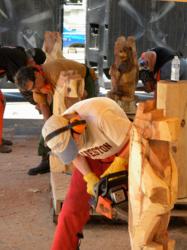 Woodland, California (PRWEB) May 08, 2012
Bailey's, an outdoor power equipment and tree care supply company, announced today that it will host the fourth annual chainsaw carving "boot camp," led by chainsaw carving legend Steve Backus. Joining Steve this year, is Master Carver, Dennis Beach. Dennis Beach is an elite sculptor, having earned many titles in the United States as well as internationally. Dennis and Steve share a whimsical and light-hearted chainsaw carving teaching style that students and spectators alike have come to love.
While the words "chainsaw carving" may bring to mind a little hacked-out bear on the side of the road, what many may not realize is that chainsaw carving, with its roots in the California Redwoods, has become a worldwide phenomenon.
Event: Chainsaw Carving "Boot Camp"
Time: 9am-5pm, Saturday and Sunday, June 9-10, 2012
Location: Bailey's Outdoor Power Equipment Retail Outlet
1222 Commerce Avenue, Woodland, CA 95776
Easily learn the art of chainsaw carving regardless of your skill level. "Beginner and advanced courses are offered," said John Conroy, Bailey's director of marketing. "We also learned lessons from the past 'boot camps' that have allowed us to reduce the tuition, while increasing the quality of the event."
Saturday's beginner instruction teaches students to carve an Alaskan King Salmon in relief. "Relief is basically two dimensional and is much easier to start with," Backus explained. "We'll also emphasize safety and give the students the confidence to use dangerous tools safely."
Advanced instruction is part of the second day, and the students will move up the chainsaw carving ladder and carve the very popular "standing" bear. "This event is really a great deal for those new to the industry," said Backus. "The students get the tools, the confidence to use those tools safely, two carvings they create, and they get to hang out with some of the top pros in the business."
Contact: John Conroy
Director of Marketing
johnc(at)baileysonline(dot)com
707-984-6133