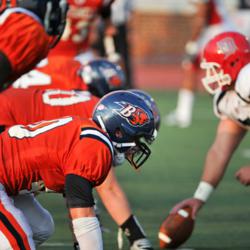 The team environment and dynamic is truly a safe space where I never have to think twice about being gay or hide who I am." - Bucknell University junior Ashley Rooney
LEWISBURG, PA (PRWEB) May 03, 2012
Taylor Harris, a senior accounting major and member of the Bucknell men's swimming and diving team, never felt the need to announce his sexual orientation to his teammates.
"Straight people don't have to come out," Harris said. "Why should I?"
But he never hid his sexual orientation, either. As his teammates came to realize he was gay, Harris was greeted with overwhelming support.
"I have had a wonderful experience at Bucknell as an openly gay athlete," Harris said. "I think the fact that everyone has been so accepting has really helped us behave as a cohesive team. It is so much easier to compete knowing that you have your team behind you 100 percent."
That accepting environment is one of the reasons Bucknell University's athletics program has been recognized as one of the top-10 safest and friendliest programs in the country for lesbian, gay, bisexual and transgender (LGBT) students. The rankings were compiled by Campus Pride, in partnership with Compete magazine.
"This recognition for Bucknell is exciting and important," said Ashley Rooney, a junior history major who is on the women's rowing team. "For me, being an openly gay athlete here has been wonderful. Having teammates and coaches who are very strong allies and who fully accept me has been very beneficial for my experience at Bucknell. The team environment and dynamic is truly a safe space where I never have to think twice about being gay or hide who I am."
Several of Bucknell's athletic teams are designated as Safe Spaces, places where people are encouraged to express themselves without fear of being made to feel uncomfortable, unwelcome, or unsafe.
"Diversity is a priority at Bucknell and a significant component of the University's strategic plan, and the Department of Athletics and Recreation is proud to continue our leadership role in this important area," said Athletics Director John Hardt. "Our student-athletes, coaches and staff have done a tremendous job ensuring that our varsity athletics teams are safe and welcoming places for individuals from any and all backgrounds. This national recognition from Campus Pride and Compete magazine helps validate that good work." [Read the Bucknell Magazine story about Sean Coyne, Class of 2010, who came out as a gay student-athlete at Bucknell.]
These first-ever rankings are part of Campus Pride's Out to Play Project, which focuses on the dialogue of LGBT safety and inclusion in college athletics and aims to provide the necessary research to broaden efforts to combat anti-LGBT behavior in sports.
"For far too long, no one has known the score when it comes to LGBT-inclusion and friendliness in collegiate sports programs — that changes today," said Shane Windmeyer, executive director of Campus Pride. "LGBT students today are more out and vocal than ever before and those who are also athletes deserve to know which schools and which athletics programs will respect them for who they are. All students deserve the assurance of safety and inclusion both in the classroom and on the field."
The Out to Play List comprises what Campus Pride calls its 10 'Best of the Best' LGBT-friendly athletics programs at colleges and universities across the country. The list was compiled from nominations received nationwide, with each reviewed for its LGBT-inclusion efforts, practices and policy implementation.
The other schools accompanying Bucknell on the Out to Play List are: Bates College, Bowdoin College, Columbia University, Indiana University, Ithaca College, Kennesaw State University, New York University, Stanford University and Whitman College.
The top 10 list is the first resource in Campus Pride's ongoing Out to Play Project. This fall, the organization will release the most comprehensive national collegiate research report sharing the experiences of nearly 500 self-identified LGBT athletes and providing necessary resources for further progress on LGBT issues in college athletics.