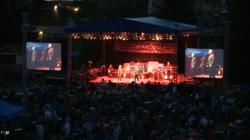 This summer kick-off event is a staple for many, but we're always welcoming new friends to come join the party!
(PRWEB) May 04, 2012
It's time to kick off another sensational summer of outdoor fun in Ellicottville, N.Y., just minutes south of Buffalo, where hot new acts continue to breathe new life into a strong event tradition. Headlining the now infamous outdoor Summer Music Festival this year is The Guess Who, appearing on the slope side main stage on Sunday evening, July 1, to take fans on a roller coaster ride of timeless hits like "American Woman" and "These Eyes," unpredictable jamming and the ultimate sing-a-long experience.
The stellar weekend opens on Friday, June 29, with Sister Hazel, a band whose creative train just keeps rolling with successes like Release, Heartland Highway and the mega hit "All For You."
On Saturday, the inspiring Buffalo Philharmonic Orchestra (BPO) performs as the sun sets on the hills, a symphony like no other that's sure to get people of all ages up and moving to the beat, followed by spectacular fireworks. Rounding out the weekend are the Arts and Craft Show, annual pet parade and Strawberry Festival, as well as many other fun activities throughout the village.
"This summer kick-off event is a staple for many, but we're always welcoming new friends to come join the party," said Brian McFadden, executive director of the Ellicottville Chamber of Commerce, which hosts the annual event.
Pre-sale tickets are available until June 22 at the discounted rate of $25 for Sister Hazel, $30 for the BPO and $30 for The Guess Who. Children under 12 are free to all three shows and special VIP packages are also offered, including preferred seating and parking. To order, call 1-800-349-9099 or visit http://www.ellicottvilleny.com.
MORE SIZZLING SUMMER FEATURES
Two new events are heating things up in Ellicottville this summer. First up is the first-ever Holiday Valley Mudslide Obstacle Race on Saturday, June 16, an off-road run taking place on the ski trails. Participants navigate eight obstacles as they make their way through the muddy, 3.5- or 5.4-mile courses. Pre-registration is available for $45 ($10 for the kids' run) up until June 7 at http://www.holidayvalley.com. Race day registration is $60 ($15 for kids.)
Next is the inaugural Centurion Ellicottville cycling series event, set for August 17-19. "If you love the Tour de France, the Centurion is a great way to mirror the experience," says McFadden, noting that many riders will come to try the courses, both before and after the actual event.
"We are extremely excited to host Centurion Cycling in Ellicottville," he said. "We look forward to the impact that this event will create, both economically and to further our goal of becoming a 'premiere' sporting destination in Western New York."
The event gets under way on Friday with a special cycling movie night in the village. Saturday morning is reserved for the C25 event that takes riders on a one-loop course through the rolling hills of Cattaraugus County, followed by the Kid's ride. Individual and Elite Team Time Trials take place in the afternoon, with elite teams featuring the region's top amateur cyclists vying for the prize purse. Sunday is the marquee event as racers speed through the legendary Ellicottville hills using pace corrals in the C50 and C100 events. For more details, visit http://www.centurioncycling.com/Ellicottville.
IMPROVEMENTS AT HOLIDAY VALLEY
Also announced for the 2012 season in Ellicottville are upgrades to two main Holiday Valley attractions: the Aerial Park at Sky High and the Double Black Diamond Golf Course. Open Friday through Sunday from now through June 10 and daily from June 15 on, Aerial Park features a new 'zip to the bottom' course that begins in the park, traverses the ski slopes and ends at the Tannenbaum base lodge, including six new zip lines, one as long as 350 feet. The exhilarating course, featuring a series of platforms, ladders and 'bridges' throughout a four-acre section of woods, is part of Holiday Valley's exciting new Sky High Adventure Park which opened last year. Now into its second season, Sky High also includes the one-of-a-kind Mountain Coaster, a roller coaster style ride built into the slopes.
Holiday Valley's Double Black Diamond, meanwhile, boasts many new tees, new bunkers (including several challenging sod wall bunkers), relocated and improved ponds, and additional elements that have the greens in fantastic shape for an enjoyable day on the links. Also returning is the nationally recognized Phil Ritson – Mel Sole Golf School, consistently named one of America's top five golf schools. Lessons get under way May 18. For more information on all Holiday Valley activities and attractions, visit http://www.holidayvalley.com.
FOR MORE INFORMATION
For additional details about Ellicottville's sizzling summer line-up and a full event listing, visit http://www.ellicottvilleny.com, or contact the Ellicottville Chamber of Commerce at 1-800-349-9099. 'Fans' are always welcome at http://www.facebook.com/Ellicottville.