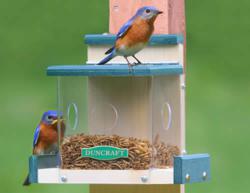 The clear sides really let you see more bird activity--I love my new feeder and so do my bluebirds!...S. Bailey--Duncraft Employee
Concord, NH (PRWEB) May 03, 2012
Duncraft's all-wood Bluebird Post Feeder has been a staple in bluebird lover's backyards for over 20 years. Now with the ability to recreate products in vibrantly colored, recycled plastic, Duncraft has revamped this old standby. The Clearview Bluebird Feeder is now more durable, has a beautiful, modern appearance—and fits perfectly in today's contemporary yardscapes.
Duncraft customers who have insect-eating bluebirds in their yards invariably feed their birds mealworms—either live or dry roasted. Live mealworms travel and therefore require a bird feeder from which they can't easily escape. And bluebirds, being cavity dwellers, are not averse to entering a feeder in order to snack on these tasty morsels. Many other birds won't enter an enclosed feeder, so the Clearview is perfect for reserving mealworms for bluebirds and letting them eat away from more aggressive species.
The Clearview Bluebird Feeder is named for its crystal clear, acrylic front and sides. As bluebirds enter through three openings, customers have the best view yet of these beautiful birds delighting in nutritious mealworms and taking them back to their nests to feed their young.
In addition to the clear sides, Duncraft has crafted the lift-up top in Eco-friendly, recycled plastic. The new top is impervious to weather and won't fade or crack, no matter how long it's exposed to snow, hot sun or rain, and it protects the wooden elements of the feeder. The recycled plastic has a rich, green color with a wood grain finish and Duncraft also used it to finish off the side perches and rear mounting paddle. All is secured with golden fasteners that give the feeder a decorative look. The end result is a product that's durable, looks beautiful in any setting and will give Duncraft customers years of service and pleasure.
Founded in 1952 and located in Concord, New Hampshire, Duncraft's objective is to bring the joy of backyard birding to wild bird lovers all across the country. Mike Dunn, owner and CEO is constantly inventing and searching for innovative ideas in bird feeding—giving bird lovers years of bird feeding enjoyment, success and satisfaction.
Duncraft
102 Fisherville Road
Concord, NH 03303
603-224-0200