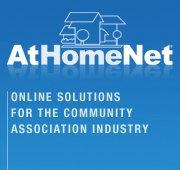 Combining our use of cutting edge technology with powerful partnerships like this is key to our success and passing that success on to our clients."
Suwanee, GA (PRWEB) May 03, 2012
AtHomeNet, Inc., a web services company in metro Atlanta, announces an agreement creating a newly founded relationship with CoreLogic. Once the integration is complete, the affiliation will allow AtHomeNet clients to merge the information stored in their Jenark property management software with their AtHomeNet website and provide easy online access to account information, work order and violation status, and a variety of other association management tasks.
"AtHomeNet is constantly striving to expand the functionality of our websites to help streamline the business processes of our clients," said AtHomeNet co-founder and CEO, Susan Sanders. "Integrating with Jenark software allows us to provide extended functionality at an affordable price to our clients who currently use the software for their property management needs." With this relationship, the company will be able to provide a comprehensive management solution for even more association management companies. "It's one-stop shopping," remarked Sanders.
AtHomeNet currently serves over 750 management companies throughout the world. "We are constantly seeking ways to provide our clients with the internet-based resources they need to offer quality service and support to their community and condominium association clients," said AtHomeNet co-founder and President, Jeff Sanders. "Combining our use of cutting edge technology with powerful partnerships like this is key to our success and passing that success on to our clients."
Jenark property management software from CoreLogic serves more than 300 management companies and self-managed communities throughout the United States. For more information, visit http://www.jenark.com or http://www.corelogic.com.
About AtHomeNet, Inc.
AtHomeNet® is the nation's premier provider of customized, affordable websites for communities and professional association management firms. The company was founded in 1998. With their online solutions now being used in over 2 million homes in and more than 6 countries, AtHomeNet continues to grow as a company and enhance their services in the ever expanding world of online technology. For more information on AtHomeNet web services please visit http://www.AtHomeNet.com or contact Lauren Briscoe at LaurenB@AtHomeNet.com or call 1-800-556-7852.
About CoreLogic
CoreLogic is a leading provider of consumer, financial and property information, analytics and services to business and government. The Company combines public, contributory and proprietary data to develop predictive decision analytics and provide business services that bring dynamic insight and transparency to the markets it serves. CoreLogic has built one of the largest and most comprehensive U.S. real estate, mortgage application, fraud, and loan performance databases and is a recognized leading provider of mortgage and automotive credit reporting, property tax, valuation, flood determination, and geospatial analytics and services. More than one million users rely on CoreLogic to assess risk, support underwriting, investment and marketing decisions, prevent fraud, and improve business performance in their daily operations. The Company, headquartered in Santa Ana, Calif., has more than 5,000 employees globally. For more information visit http://www.corelogic.com.
CORELOGIC is a registered trademark owned by CoreLogic, Inc. and/or its subsidiaries. No trademark of CoreLogic shall be used without the express written consent of CoreLogic.