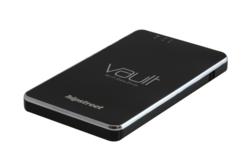 (PRWEB) May 07, 2012
Media users will never again encounter storage limitations now that Hipstreet's Vault Wi-Fi Drive has arrived. This pocket-sized gadget works wirelessly to provide additional storage and content sharing for most mobile devices with Wi-Fi connectivity.
The Vault Wi-Fi Drive from Hipstreet, an emerging worldwide consumer electronics company, is based on flash memory technology which enables faster file accessibility. At only 71g, this lightweight device is a perfect travelling companion and is small enough to fit into a pocket. The device will be available in 32GB and 64GB and can be accessed wirelessly by multiple users at the same time.
Family road trips are about to get a whole lot easier, with no more fighting about which movie to watch or what music to play. One family member can watch his favorite movie on his tablet while another listens to the latest tunes on her iPhone -- simultaneously.
The applications are nearly endless. Travelers can swap vacation pics, businessmen can share important documents over a lunch meeting and friends can share videos of their kids, all without the hassle of email attachments and cumbersome downloads.
Hipstreet's Vault Wi-Fi Drive connects to the computer by USB cable, and setup is a snap. Once files are transferred, secured users can access any files stored on the drive, which has up to five hours of battery life.
Started in 2002, Hipstreet specializes in consumer electronics. Based in Ontario, CA, Hipstreet has partners with more than 6,000 retail outlets throughout the world, with a focus on markets in North and South America, as well as the Indian subcontinent. Hipstreet products are available at Hipstreet.com, through retail outlets, including online retailers, mass merchandisers, electronics superstores, office superstores, home-shopping networks, major distributors and independent retailers.