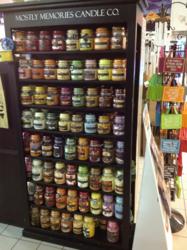 Mostly Memories Candles, with their soy-blend waxes, lead-free wicks and the varieties of aromas are 'Gifts that make scents
Elma, New York (PRWEB) May 03, 2012
Mostly Memories brings their scented, soy based candles to the Made In America Store, just in time for Mother's Day. The candles come in 20 ounce and 28 ounce sizes and come with two different candles in one glass container. With all the scents available, consumers are sure to find a candle fitting for their mother or even themselves.
The soy based candles from Mostly Memories come with an additional candle in the glass lid of the container. The double candles, or "Lid Lights," can come in over 40 different scents and consistently change with the seasons. Consumers can enjoy scents ranging from flowers of "Cherry Blossoms" to sweeter, cookie scent like "Grandma's Kitchen."
Consumers can view and shop for the up-to-date list of scents of Mostly Memories Lid Lights at http://www.MadeInAmericaStore.com
The hand-made candle company started back in 1993, and actually started by manufacturing scented greeting cards in their attic. The company is located in Springfield, Missouri, and now has a product line spanning one-of-a-kind candles and bath & body products.
Mother's Day is fast approaching and consumers can find comfort to know the Made In America Store offers a variety of candles to fit any mother's needs.
Today, Mostly Memories is owned and operated by David Aquirre. David's wife, father, father and mother-in-law continue the tradition of keeping the family business operated by helping with the company. The Made In America Store prides itself on keeping the quality American made products. Currently, the Made In America Store stocks its shelves with products from over 290 privately owned businesses.
The Mostly Memories facility, that is located in Southwest Missouri, manufactures its candles all hand-made. The candles are made with environmentally safe soy-blend wax and use lead free wicks.
"Mostly Memories Candles, with their soy-blend waxes, lead-free wicks and the varieties of aromas are 'Gifts that make scents'."
The Made In America Store is located at 900 Maple Road in Elma, New York and is committed to selling 100% American manufactured products. You can visit http://www.MadeInAmericaStore.com for more information or shop our catalog of over 290 vendors that are devoted to producing USA made products. All US military personnel both active duty and retired receive a discount every day. Consumers can also keep up to date news articles, events, photos and contests with Facebook, Twitter, Google+, Pinterest and Tumblr!