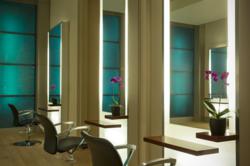 "At The Salon at Spa Gaucin, we are committed to delivering Southern California's highest quality hair, nail and makeup services in an atmosphere of sophisticated yet relaxed and unhurried elegance." Salon and Spa Gaucin Director Valory Reed
Monarch Beach, CA (PRWEB) May 08, 2012
The St. Regis Monarch Beach – one of California's only Forbes Five Star and AAA Five Diamond resorts – today announced the grand reopening of its salon, renamed The Salon at Spa Gaucin and redesigned to offer the ultimate in luxury salon services. Formerly operated by Vogue Salon, The Salon at Spa Gaucin now is managed by the unparalleled salon and spa experts behind the award-winning Spa Gaucin at The St. Regis Monarch Beach.
"While much of our industry has moved toward express blow-outs, mini color touch-ups and strip mall nail salons, we've found that our discerning clients are seeking a pampering, bespoke experience and a respite from their busy lives," says St. Regis Monarch Beach Salon and Spa Gaucin Director Valory Reed. "At The Salon at Spa Gaucin, we are committed to delivering Southern California's highest quality hair, nail and makeup services in an atmosphere of sophisticated yet relaxed and unhurried elegance."
This innovative, return-to-luxury approach to salon services is attracting top regional and national talents to The Salon at Spa Gaucin, including Dennis Lee, Elizabeth Castillo and Lois Kinsey, all of whom bring with them impressive rosters of loyal, high-profile clients to the salon.
Elizabeth Castillo
Premier stylist Elizabeth Castillo comes to The Salon at Spa Gaucin with a star-studded following, including work for Sarah Jessica Parker, Kelly Ripa, Kelly Rutherford, Jennie Garth and more – as well as photo shoot hairstyling for superstar photographers Annie Leibovitz and Harry Langdon. In addition to her previous work at the Ritz-Carlton, Langham, and Peninsula Hotels, she also served as artistic director at Vidal Sassoon and enjoyed a successful career at Umberto Salon in Beverly Hills. Known for both hair and makeup artistry, Castillo comes to The Salon at Spa Gaucin to serve her long-time clients, new local clientele and the resort's valued guests. Available Fridays and Saturdays.
Dennis Lee
Master hairstylist Dennis Lee has worked professionally as a hair designer and stylist for more than two decades. Lee first studied the art of styling under the tutelage of famed celebrity stylist (and his uncle) Allen Edwards, and followed his successful career at Edwards' salon with long-term stints at top shops including Salon Gregorie's, Gods & Heroes and Armando Joshua Christopher Salon. World renowned and in high-demand for wedding styling across the globe, Lee now brings his talents to The Salon at Spa Gaucin. Available Tuesdays and Wednesdays.
Lois Kinsey
Los Angeles celebrity hairstylist, Lois Kinsey, is a dominant force in hair and makeup design. Lois' celebrity resume includes CBS's "The Bold and the Beautiful" and world-renowned artists Salvador Dali and Elton John. Former Artistic Director of Hair and Makeup of the Grand Wailea Resort on Maui, Lois' master certification allows her to effortlessly capture the personality and beauty of her clients and she is especially renowned for creating magnificent looks for weddings and special occasions – services that will be in high demand at The Salon at Spa Gaucin at The St. Regis Monarch Beach. Available Fridays.
To schedule appointments with these star stylists (all of whom are available by appointment), or any of the other highly skilled stylists at The Salon at Spa Gaucin at The St. Regis Monarch Beach, please call 949.234.3367. In addition to expert haircut, color and styling services, The Salon at Spa Gaucin offers a full range of luxe and indulgent nail and makeup services and uses only the finest products, including such exclusive lines as Schwarzkopf, Davines, Cuccio, Essie, Spa Ritual and TRUE. The Salon at Spa Gaucin is open daily from 8am-9pm.
About The St. Regis Monarch Beach Resort
Overlooking the blue Pacific waters of Southern California, the St. Regis Monarch Beach beckons guests to indulge in luxury accommodations and personalized service at its Tuscan-inspired retreat. This quintessential Southern California beach resort offers guests 400 elegantly appointed and spacious guest rooms and suites, a private beach club with "Surf Butlers," six ocean view restaurants including Michael Mina's Stonehill Tavern, a Forbes Five-Star and one of the "Top 25 Hotel Spas in the World" by Travel & Leisure Magazine extraordinary spa, an 18-hole Robert Trent Jones, Jr.-designed golf course, tennis courts and nearby recreational activities. The resort is located just 22 miles from the Orange County Airport and 65 miles to both LAX and San Diego Airports.
# # #