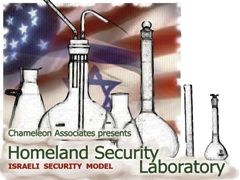 Chameleon training is cutting edge - this course is an absolute must take for security professionals prepared to learn from the best.
Canoga Park, CA (PRWEB) May 04, 2012
Nowhere is there a better place to learn and test security practices than in Israel, an established world leader in security. On every level, Israeli security managers have a different approach to building their systems and protocols. It is threat-based. A key to their success lies in understanding the adversary and looking at the threat from the enemy's point of view.
Yet, trying to learn these successful security methods from books or classes has its limits. Chameleon Associates has recognized this gap and is acting to fill it. This revolutionary training takes place November 12-16 in Israel, where students will be introduced to the practical application of threat-oriented security, in situ. Instructors guide students through a systematic design methodology which is then tested and practiced in the field. Students leave Israel with an A-Z toolkit for threat-oriented security operations which they can immediately apply to their own situation, back home.
Amotz Brandes, Managing Partner, underscores the need for this kind of training - "Security folks from all sectors have the same problems, and I hear about it week after week. They just don't have direct access to a threat-based method, let alone the kind of experience that's available in Israel, from an American company that understands what it takes to deploy back home."
Chameleon provides threat-based training and consultation, threat assessments, red team and Predictive Profiling courses to a wide range of clients in the private sector, government, law enforcement, non-profit, aviation security, critical infrastructure and the military.
About Chameleon Associates
For two decades, Chameleon Associates, headquartered in Canoga Park, California, has been helping its clients mitigate threat. They provide cutting edge security training, assessment and consultation services to international agencies, federal governments and local law enforcement from around the world. They also offer soup to nuts security management solutions to corporate and non-profit clients who tap into the specialized knowledge and methods that make Chameleon unique. For more information, visit http://www.chameleonassociates.com.