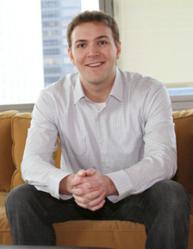 Obviously, this isn't for everyone. But for the client who knows what he or she wants and who puts a high price on success, this is a no-brainer.
New York, New York (PRWEB) May 03, 2012
Most parents in the New York City area are willing to pay high prices for their SAT tutoring; even lower-end firms charge upwards of $100/hour for their services. However, one New York SAT tutor is upping the ante: for $100,000, he guarantees that he can get his clients their dream SAT scores. And if he doesn't pull it off, clients won't owe him a thing.
Anthony-James Green, owner of NewYorksBestSATtutor.com and widely known as one of the best SAT tutors in the country, is offering parents a quid pro quo: if he can get their children to break a 2000 on the SAT, they're legally obligated to pay him the $100,000 price-tag. If he fails to deliver a 2000 or better, parents owe him absolutely nothing.
"For a lot of parents, this is a dream-come-true," says Green of the offer. "SAT scores are a huge factor in college admissions decisions, and they're also a huge pain in the neck for parents and students. Asking busy parents to pester their children about their SAT scores in the rare free time they have to spend with them is ridiculous," says Green. "This is a turn-key solution. Parents sign up, they sit back, and I get to work. If I get them what they're looking for, they're happy to pay the price. If not, they don't owe me a dime. Most parents don't want to sit at the dinner table and talk about the SAT. When someone's daughter is heading to college in two years, do they want to spend her last live-at-home moments bothering her about her math scores? Parents leave the pestering to me - and trust me, I know how to pester."
Green, who usually charges $350/hour for his services, boasts an impressive track record: his average student score increase hovers at roughly 340 points, and he's improved students' scores by over 800 points in the past.
"Every student is capable of getting a perfect or near-perfect SAT score," says Green. "The SAT tests one's ability to take the SAT. That's it. If a student isn't getting it, it's because he has strategic or material weaknesses that needs to be addressed. Once I patch up those weaknesses, her scores skyrocket. It's as simple as that. I'm good at what I do because I find those weaknesses faster than anyone else, and I patch them up even faster."
When asked why Green chose 2000 as his benchmark score, his answer was simple:
"There's a joke in the admissions industry: what's the difference between a 1990 and a 2000? Answer: admission. 2000 is the magic number - it's the sweet spot. If a parent comes to me with a student who has a 1800 and they want to go for a 2300, I'm amenable to different offers as well. But for most students and their families, a 2000 makes all the difference."
According to Green, those who scoff at the price tag of his offer are "completely missing the point." "Could parents pay less for their kids' SAT prep? In 1,000 different ways, sure. But for certain parents who put a price on success, and who value their time, their peace of mind, and their children's opportunities more than they value $100,000, this is a no-brainer. And if I don't live up to my promises, they don't owe me a cent. So what's the issue?" According to Green, the key to this offering is the full-year commitment parents are securing.
Green has 365 days to get his students the 2000+ that their parents are signing up for. This means that Green needs to work around the clock throughout the year to ensure that his students hit the mark. Parents are in effect buying Green's full-time commitment to their children's SAT scores.
"I'm excited for the challenge," says Green. "This is an opportunity for me to go completely all-out. If a student needs me to write him 1,000 practice problems on a certain topic, I'll do it. If a student needs 8 hours or more of prep a week, that's what she'll get. I'm loading all my effort and all my resources into this offer. There's nothing more exciting than seeing students transcend their so called "limitations," and that's why I'm doing this. I'm pushing myself as much as I'm pushing my students, and I'm excited to see what kind of results I can produce."
Parents in interested in learning more about Green's offer should visit his website at:
http://www.NewYorksBestSATtutor.com
Anthony-James Green is the head SAT tutor at http://www.NewYorksBestSATtutor.com He's the author of How to Take a Standardized Test and The Perfect 12 Manual to the SAT Essay, and his newest book, Own the SAT, will be released within three weeks. He's also authoring an up and coming book, Test Prep for Parents, which he aims to release in November of 2012. Green is also the president of Test Prep Authority, an online resource center for ACT and SAT practice, articles, and tools. Green is also the head developer of Vivid Vocab, an SAT and GRE vocabulary module designed to help students permanently memorize vocabulary words. Green lives and works in downtown Manhattan.
###