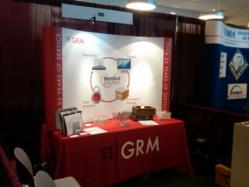 "The City of Houston needs GRM, and the ARMA Chapter in Houston allowed us to be introduced as a premier provider at this great event. We have the ability to offer blended integration with new levels of costs efficiencies to our clients." - Frank Martinez
Houston, TX (PRWEB) May 03, 2012
As a long-standing ARMA Member, GRM proudly exhibited at the recent ARMA Houston Conference.
"The City of Houston needs GRM, and the ARMA Chapter in Houston allowed us to be introduced as a premier provider at this great event. We have the ability to offer blended integration with new levels of costs efficiencies to our clients." - Frank Martinez – General Manager of GRM Houston.
The state-of-the-art facility in Houston is a full services RIM facility that is 100% committed to serving local area businesses. GRM, as an ARMA member in good standing, provides comprehensive, lifecycle information management solutions.
With 25 years of experience, GRM Document Management is a leading provider of lifecycle records and information management solutions. The company brings proprietary innovation, blended integration and new levels of cost efficiency to document storage, data protection, digital/electronic document management and certified destruction. GRM's growing network of facilities serves Los Angeles, San Francisco, New York, Philadelphia, Washington D.C., Atlanta, Miami, Chicago, Houston, Boston, and China.