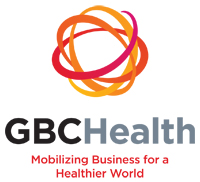 New York, NY (PRWEB) May 04, 2012
Premier Conference & Awards on Business and Global Health
May 14-15, New York City
Top leaders in business and health to address private sector role in improving health in workplace, community and world
Announcements to Be Made Include:
Susan G. Komen for the Cure's Nancy Brinker on First Breast Cancer Workplace Toolkit for Emerging Markets;
Launch of UN-Backed Business Alliance to Accelerate Global Health Solutions
GBCHealth, a non-profit coalition of more than 230 companies working to improve the health of their workforces and communities around the world, will bring together corporate executives, government leaders, and visionaries from the most influential global institutions at its annual conference. Together, they are partnering to tackle the most urgent global health problems of our times. GBCHealth, formerly known as the "Global Business Coalition on HIV/AIDS, Tuberculosis and Malaria," changed its name in 2011 to reflect its expanded mission into other health issues such as diabetes and cancer. Please see information below, including descriptions of highlighted sessions and of how to register for press credentials.
Among the keynote and panel speakers:
Deepak Chopra; Sarah Brown, former UK first lady and maternal health and girls' education advocate; UNAIDS' Michel Sidibé; Coca-Cola Company CEO Muhtar Kent; model and activist Christy Turlington Burns; South Africa First Lady Bongi Ngema-Zuma; UN Women's Michelle Bachelet; Susan G. Komen's Nancy Brinker; UN Malaria Envoy Ray Chambers; preventive medicine guru Dean Ornish; Global Health Corps CEO Barbara Bush; Pulitzer Prize-winning journalist Jonathan Capehart; Save the Children CEO Carolyn Miles; CARE USA CEO Helene Gayle and more.
Leaders from just some of the following companies will be speaking:
Access Bank, Anglo American, BD (Becton, Dickinson and Company), Chevron, Cisco, Dow Chemical, Edelman, Freeport-McMoRan Copper & Gold, HP, Johnson & Johnson, JP Morgan, Medtronic, Merck, Novo Nordisk A/S, Royal Dutch Shell, Teck Resources Limited, Unilever, Volkswagen Group South Africa, Vale.
WHERE: Roosevelt Hotel, New York City
45 East 45th Street (at Madison Avenue)
RSVP: For more information and to register for press credentials, please contact:
Eve Heyn at + 1-212-584-1651 (O); +1-646-358-6237 (M) or eheyn(at)gbchealth(dot)org
Selected Highlights of the GBCHealth Annual Conference and Awards Dinner
Special Session: MDG Health Alliance - A Plan for Driving Progress: This session will launch the MDG Health Alliance. Led by eminent leaders from the private sector, the MDG Health Alliance will bring together companies to focus on specific solutions, with a market-driven focus, to tackle six of the world's most urgent health problems. Also, Ray Chambers, United Nations Secretary-General's Special Envoy for Malaria and a leader of the MDG Health Alliance, will highlight the launch at the Awards Dinner.
AIDS@30: Join GBCHealth CEO John Tedstrom in conversation with three of the most passionate and influential leaders in today's global fight against HIV/AIDS: Michel Sidibé, Executive Director, UNAIDS; Under Secretary-General, United Nations; Ambassador Eric Goosby, United States Global AIDS Coordinator, U.S. Department of State; and Brian A. Brink, Chief Medical Officer, Anglo American plc, a mining company and pathbreaker in corporate HIV programs.
Maternal Health: Milestone Moments on the Path to Healthier Motherhood: Join the United Kingdom's former first lady, Sarah Brown, and supermodel Christy Turlington Burns, both tireless advocates for maternal health. They will be joined by leaders from BD; Merck, which has a new signature initiative to reduce maternal deaths around the world; and Chevron, a champion in preventing mother-to-child transmission of HIV; as well as the NGO CARE USA.
A New Workplace Breast Cancer Toolkit: Nancy G. Brinker, founder and CEO of Susan G. Komen for the Cure, will unveil the plan for a new workplace breast cancer toolkit that will be developed with companies for emerging markets.
Can Southern Africa Eliminate Malaria?: Leaders in eight southern African countries are spearheading an ambitious commitment to eliminate malaria from their countries by 2020. Can the "Eliminate 8" coalition do it? Government leaders, multilaterals and boots-on-the-ground implementers will discuss how Southern Africa is innovating to defeat this disease, including the use of mobile devices in the field to report on everything from malaria cases to the distribution of bed nets. The six panelists include a health minister whose brother's death from malaria fuels his fight in Namibia, which has made remarkable strides. Also: the medical director of Freeport-McMoRan Copper & Gold, a mining company that supports indoor spraying, distribution of insecticide-treated bed nets and other measures that have dramatically reduced malaria in the workforce and surrounding communities in the Democratic Republic of the Congo.
Influencing for Change - Tackling South Africa's Diabetes Epidemic: Having experienced first-hand her own mother's struggles with diabetes and the devastating impact the disease has in her own country, South Africa's First Lady Madam Bongi Ngema-Zuma became a woman on a mission. She will speak about South Africa's efforts to rein in diabetes, which plagues more than 1.9 million people nationally.
Social Health: The Future of Disease Awareness, Prevention and Treatment: A patient with a rare disease reached out with social media to find peer support. The conversation caught the attention of the Mayo Clinic, precipitating a clinical study on the disease. Facebook, Twitter and YouTube –and beyond-- are being used for health information and interventions in ways their creators had never imagined.
Health: Business Responsibility or Business Opportunity? Executives from Chevron, Edelman, HP and Medtronic will explore the duality of responsibility vs. opportunity in the pursuit of better health. Learn how the most inventive companies in the world are finding ways to make health a cornerstone of their business and a foundation of their success.
Lost in Translation: Defining and Delivering Wellness in the Global Workplace: Workplace wellness programs are evolving around the world. But they range from wall posters to comprehensive on-site programs that address everything from HIV and TB to obesity and cardiovascular disease. Leaders from companies with best-in-class workplace wellness programs -- Dow Chemical, Royal Dutch Shell, Unilever and Volkswagen Group South Africa – will highlight how to translate global health strategy to successful local programs across diverse settings.
Healthy Cities: How Local Governments are Partnering with Business to Improve Urban Health: Urbanization is both positively and negatively shaping the health outcomes of millions of people. Mayors from Johannesburg to Mombasa will address the challenges of improving health in an urban setting and the role of business in this effort.
The Business of Health Diplomacy: Learn how multinational companies and governments engage on health globally and the opportunities and risks companies face when investing in nations with differing views on health policy. Panelists include a parliament member from Botswana, global health leaders from the companies Vale and Novo Nordisk A/S and a senior fellow from the Council on Foreign Relations.
Throughout the Conference and Awards Dinner, GBCHealth will bestow its Business Action on Health Awards that honor the corporate-led successes that fight the greatest health threats of our time.
###