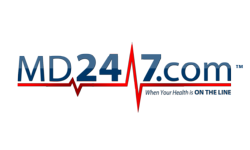 Visit http://www.md247.com.
St. Petersburg Florida (PRWEB) May 02, 2012
MD247.COM launched a program on Wednesday urging members of the telemedicine program to contact the telemedicine talk to a doctor hotline with questions and concerns regarding erectile dysfunction.
MD247.COM explained that erectile dysfunction occurs when a man can no longer get or maintain an erection firm enough for sexual intercourse. Having erection trouble periodically is not necessarily a concern, but ongoing problems must be medically reviewed. Patient failure to talk to a doctor about erectile dysfunction can lead to anxiety, relationship problems and eventually depression. Understanding that this topic is exceptionally difficult to deal with at a local medical clinic, MD247 has made its telemedicine "talk to a doctor" hotline available to telemedicine program members nationwide to discuss erectile dysfunction.
MD247.COM explains that a patient diagnosing their erectile dysfunction, or self-prescribing medication for the same problem is very dangerous but quite frequently how many men avoid an embarrassing visit to the doctor. MD247 advises men who think they have erectile dysfunction that it is better to talk to a doctor, as there could be underlying health problems causing the erectile dysfunction. There may be diabetes which is not being well managed, or blood pressure issues which are not reacting well to a specific course of medication and treatment. The layman is not properly educated to handle and diagnose that both prescribed and over the counter medications could be the cause of erectile dysfunction. Doctors, like the telemedicine specialists at MD247 do have the skills and knowledge required to help patients make the appropriate changes to resolve the problem. With that in mind, always do the following when talking to a doctor about erectile dysfunction;

Provide the doctor with as much information as possible.
Explain when the effects medicines taken were noticed to affect the sex drive.
If not satisfied with the information that a doctor gives during the telemedicine conference, or if the call felt rushed and uncomfortable, it is alright to contact MD247 and discuss a desire to speak to another telemedicine specialist.
MD 247 is a twenty-four hour a day affordable concierge telemedicine company based out of Seminole Florida. All members have unlimited twenty-four hour telephone access to a nationwide medical support team with just a phone call. MD247.com has a virtual platoon of Registered Nurses and board certified physicians in each and every state available to members for ALL non-emergency situations. You can learn more about MD247.com by visiting http://www.md247.com.