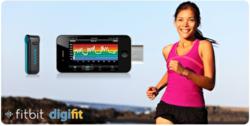 Santa Barbara, CA (PRWEB) May 03, 2012
Digifit®, the original heart rate monitoring app, and Fitbit, the maker of the popular Fitbit Ultra Wireless Activity and Sleep Tracker, today announced the data integration partnership which will enable Digifit users to seamlessly pull their Fitbit data information into the app, or pull their heart rate monitoring information into their Fitbit dashboard. Because heart rate monitoring is often considered to be a key additional metric to measure cardio exercise, users who have both a Fitbit Tracker and the Digitfit can gain additional insights in their cardio health through this integration.
Digifit offers users the unique ability to create customized workouts based on heart-zone training and music. The solution delights end users and offers a progress-management solution for health groups, clubs and instructors looking to enhance a client's fitness experience through customized goals to deliver highly-targeted results.
The Fitbit Tracker is a compact wearable device that clips onto clothing or slips into a pocket and captures, through accelerometer technology, information about daily health activities, such as steps taken, distance traveled, calories burned, exercise intensity levels and sleep quality. The Ultra even tracks how long and how well you sleep. The activity data is wirelessly uploaded to the Fitbit website where users access the data and track progress toward personal and group goals. Users also log nutrition, weight and other health information on the site in order to gain a complete picture of their health. Fitbit Ultra can be purchased at Fitbit.com or at 6,000+ national retail stores.
"When you wear your Fitbit Tracker all day and workout with the Digifit heart rate monitoring app, your fitness data is automatically uploaded to Fitbit.com and My.Digifit.com. Users have said that the visualization of both Fitbit fitness data along with Digitfit data is a very powerful motivator," said Dean Hovey, President and CEO of Digifit. "Reviewing your intraday activity, exercise and sleep or analyzing your weekly and monthly trends inspires you to develop more healthy habits."
Digifit is also integrated with the new Fitbit Aria Wi-Fi Smart Scale. Launched just last week, Fitbit Aria is a high performance scale that tracks weight, percent body fat and BMI, and automatically uploads personal info through the individual's Wi-Fi network to their Fitbit account. The Fitbit Aria scale can be purchased at Fitbit.com or at leading national retailers, like Best Buy. With each Fitbit account, individuals can set weight goals, track progress, as well as garner extra motivation by earning badges through Fitbit's online and app tools.
"We are excited to be working with Digifit. Fitbit is dedicated to building an open environment in which data can be seamlessly integrated to your account on Fitbit or on our partners' applications and websites. Heart monitoring is an essential element to cardio health, and we think this integration is a great fit with Fitbit," said Woody Scal, Chief Revenue Officer.
To celebrate this exciting integration, one lucky individual will have the chance to win a complete fitness tracking system featuring a Digifit Connect, Garmin Heart Rate Strap, Fitbit Activity Tracker and the new Aria Scale. The giveaway will be held through the month of May. For more information or to enter, visit: digifit.com/giveaway.
The Digifit app is now available, free to try, and $1.99 to upgrade to sensor support in the App Store for the iPhone, iPad, or iPod touch. It is currently in beta for the Android platform. The apps are compatible with Digifit Connect, a wireless transceiver that communicates with ANT+ sensors like the Garmin heart-rate monitor and Spinning cadence sensor, and is also compatible with certain Bluetooth and Bluetooth Smart wireless sensors.
About Fitbit
Founded in 2007 in San Francisco, CA, Fitbit is dedicated to delivering simple, innovative health and fitness products and services that help people lead healthier, more active lives by giving them the tools to become more aware, more motivated and more fit every day. Fitbit's Ultra Wireless Activity + Sleep Tracker is the leading wireless fitness tracker on the market, with distribution at leading national retailers such as Amazon.com, Best Buy, Brookstone, Radio Shack, REI and Target. Fitbit is funded by the Foundry Group, True Ventures and SoftTech VC. For more information please visit http://www.fitbit.com or connect with us on Facebook or Twitter.
Media inquiries:
Brittany Hodill
fitbit(at)oco(dot)com
(415) 367-4102
About Digifit
Digifit offers truly engaging health and fitness solutions using sensors and wearable technology integrated with mobile devices and the cloud so users can track activities anywhere, indoors or out, with a focus on heart rate training and monitoring. Founded in Santa Barbara, Digifit was the first app developer to bring heart-rate monitoring to the iPhone, and is dedicated to developing innovative applications, grounded in science and powered by technology, to help people develop healthy habits and lead healthier, happier and longer lives. For more information, visit http://www.digifit.com or follow us on Facebook.com/Digifit or Twitter.
Media inquiries:
Kelly Lazarus
klazarus(at)digifit(dot)com
(805) 689-3224
iPhone, iPad and iPod touch are registered trademarks of Apple Inc.