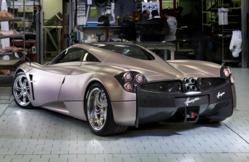 This automobile is the result of five years of dedicated effort from the Pagani team and we see this as an unprecedented opportunity to continue expanding our vision of the future for the supercar industry.
(PRWEB) May 03, 2012
There is a new rival to the king of the streets and it goes by the name of the Pagani Huayra. This machine blends horsepower and sleek style that is redefining the term "super car" into magnificent perfection. Word travels fast because 12 wealthy car enthusiasts have already placed one on order.
Legendary designer Horacio Pagani envisioned this hyper car as a rolling form of art that can exceed over 230 mph. Once the pedal is smashed to the floor, the Pagani Huarya screams like an F-14 jet which is why it was named after ancient Andean god of the wind. The Pagani Huayra resembles many of the top super cars that the world has to offer such as the Lamborghini, Ferrari, and the Bugati Veyron. A unique blend of sophisticated technology and raw horsepower.
"Starting at $1.5 million dollars, (http://www.pagani.com) the Pagani Huayra combines exotic design with ultra performance and technology. Mercedes Benz also had a hand in this freakish super car by dropping a 700 hp turbocharged 12-cylinder mid engine into this beast that is positioned behind the driver to even out weight distribution. Most of the exterior frame is made out of carbon titanium and weighs in at under 3,000 pounds. In short the Huayra Pagani is an engine surrounded by a car."
A Representative of BillionairesBunker.com states that the Pagani Huayra will blow the doors off the current super car champion Bugati Veyron and millionaires world wide know it. What millionaire wouldn't want to get behind one of the most powerful and technologically advanced super car of the future?
The Pagani Huayra has really upped the anti for super cars world wide and competitors such as Lamborghini, Ferrari, and Bugati are taking notice. Once these street rockets start making their way through the highways of America, it is only a matter of time when there will not be enough roadways to handle the speed and power the Pagani possesses.
Take a closer look at the Pagani Huayra at BillionairesBunker.com