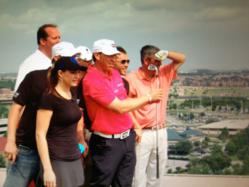 We're usually down there hitting shots, and now I'm ten stories up.
Irving, TX (PRWEB) May 08, 2012
Nick Perzichilli has always loved golf, but with his latest adventure he is taking it to a whole other level. With PGA golfer Ricky Barnes in tow, Boom Loans was present to help promote the Byron Nelson Tournament. Barnes and Perzichilli had a bird's-eye view from the roof of the TPC golf course at the Four Seasons Resort and Club. The target was the 18th green.
"We usually hit shots 10-to-15 yards downhill, but I've never hit one 30 yards down hill," said PGA golfer Ricky Barnes.
"I can't think of a better way to get the word out," said Nick Perzichilli, Boom Loans co-founder. "It's amazing to see what these guys can do."
"It's pretty awesome," Barnes said. "We're usually down there hitting shots, and now I'm ten stories up, hitting to the 18th green here at Las Colinas."
Elevated Media was also on site shooting footage for their kick off episode for the 2012 season of "Venture Links". The show features a rotating cast of PGA professionals and celebrities competing in once-in-a-lifetime hole shootouts. The debut episode will premiere May 13, 2012. For more information, visit VentureLinksChallenge.com.
Nick really liked the new dimension added to promote the tournament in Irving.
"Well I think golf, the 18 holes, is pretty straight forward - you hit fairways and greens," he said. "It's fun to kind of mix it up. You've got trick shots and the long drive guys. This is something a little bit different."
"[Rooftop golf lets you] just change it up, have a little fun, letting your hair down a little bit, changing angles and showing a little personality in the sport," said Paul Ernest, the director of golf at the Four Seasons Resort and Club.
It's a long way from the roof top of the Four Seasons down to the 18th green. It was measured at 205 yards.
Nick was excited to be surrounded by so much talent and can't wait until the tournament kicks off on May 14th.