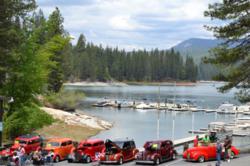 We had some amazing cars and boats on display last year for the first event, so this year promises to be even better
Bass Lake, CA (PRWEB) May 02, 2012
Miller's Landing on Bass Lake is playing host to the 3nd Annual Car and Boat Show on Sunday, June 3.
Classic cars, street rods, custom trucks and hot-rod boats will all be on display at Miller's Landing starting at 9 am until 2 pm.
"We had some amazing cars and boats on display last year for the first event, so this year promises to be even better," said Michelle Miller with Miller's Landing.
The cost to enter a car or boat is only $20. Admission is free, and spectators get to decide the winning car as they choose the best entries of the show. There will also be live music and more family friendly activities. Proceeds of the event will go towards the Children's Museum of the Sierra via the Jarrod 4 Honorary Mayor Campaign.
Miller's Landing is located at the southern end of Bass Lake, a popular vacation spot in the Sierra National Forest about half an hour from the southern entrance to Yosemite. A perfect getaway spot for central and southern California cities, Bass Lake offers all the amenities of a vacation destination all right on the shore. Restaurants, shopping and every form of lodging from camping to full service resorts are all moments from the water's edge, making it an ideal vacation spot.
In addition to the car show, guests can stay in one of Miller's Landing offers cabins, rent a ski boat or pontoon boat, get all the supplies and souvenirs they need at the general store and enjoy traditional vacation favorites at the family restaurant.
For more information on the show, or to register, contact Michelle at 559-642-3633 or http://www.Millerslanding.com. For more information on the Oakhurst Honorary Mayor campaign, which raises money for local charities, visit http://www.Jarrod4Mayor.com.
-END-