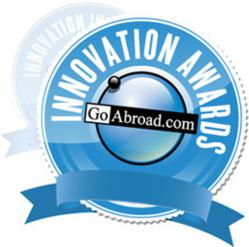 Fort Collins, CO (PRWEB) May 03, 2012
GoAbroad.com is pleased to announce that the polls for the Innovative Student Video and People's Choice Award Finalists have opened for public voting!
Each of these awards are categories of the 2012 GoAbroad Innovation Awards. The Innovative Student Video award recognizes a student-created video that captures the true essence of an international education program--demonstrating the highlights of the program, an understanding of global awareness, and active student participation.
The Innovative Student Video winner will be selected based on the number of votes it receives through the online poll.
The People's Choice Award honors the top international education organization, as selected by study abroad professionals and students. The top five finalists in this category were chosen by study abroad advisers from colleges and universities throughout the United States, based on a number of factors including: scholarship opportunities; rigorous academic programs; friendly and helpful staff and faculty; a plethora of program models and destinations; and the organization's dedication to health, safety, and accessibility.
Now students and alumni have the opportunity to vote online for their favorite organization!
Both polls are integrated with GoAbroad's Facebook Page and will be open for voting until 11:59PM CST on May 30, 2012. The winners of these categories will then be announced along with each of the other Innovation Awards at GoAbroad's invitation-only reception at the NAFSA conference in Houston.
GoAbroad encourages individuals to cast a vote before the deadline, and both polls can be viewed by clicking on each of the links below.
VOTE FOR THE INNOVATIVE STUDENT VIDEO AWARD:
http://apps.facebook.com/my-polls/p1wg4pi6
VOTE FOR THE PEOPLE'S CHOICE AWARD:
http://apps.facebook.com/my-contests/hd7thmgw
VIEW ALL 2012 INNOVATION AWARDS FINALISTS:
http://www.goabroad.com/news/innovation-awards-2012/2012-innovation-award-finalists
About GoAbroad
GoAbroad.com has been the web's premier resource for meaningful international experiences and alternative travel opportunities for more than a decade. The site boasts the largest and most comprehensive travel directories available online, while providing the most up-to-date and accurate information on programs available worldwide. GoAbroad.com's GoMedia services also offer a distinct range of internet marketing solutions for international education, including website design and comprehensive social media management.