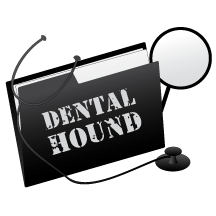 The "DentalHound" is the best, reliable, unbiased source of new pertinent dental information
Wayne, PA (PRWEB) May 05, 2012
Phoenix-Lazerus, Inc. began a blog last month on FaceBook/Saveatooth that attempted to provide both the general public and healthcare professionals with reliable, documented information about dentally related topics such as: "the 400% increase in suicides in people with mouth cancer", "the dangers of using at-home tooth bleaching agents" and "the treatment of "canker sores".
"The response to the blog was overwhelming," said Dr. Paul Krasner, editor of the blog. "However, many people wrote to Phoenix-Lazerus, Inc. and complained that they were not on Facebook and wished they could have direct access to the blog information. I naively thought everyone was on Facebook but apparently this is not true."
Thus, the development of a self-standing blog that did not promote any product or dental office was proposed. The "DentalHound" blog is committed to the same mission as the Facebook/saveatooth blog: The presentation of interesting, pertinent, unbiased and valuable dental information that is documented as being non-anecdotal by a recognized juried dental or medical journal. Links will be provided for any reader to learn more about a particular product or subject.
The blog is written by an internationally respected dentist who has published over 90 dental articles and textbooks, has lectured all over the world, is a scientific advisor for a leading dental specialty journal and has practiced dentistry for over thirty-five years.
"The name of the blog, "DentalHound" was suggested by an employee who thought the site was like a bloodhound sniffing and searching for good information," continues Dr. Krasner, a Professor of Dentistry at Temple University, School of Dentistry. "Since the blog writer is a dentist, he thought the writer was like a dental hound."
"Sometimes the blog content will draw from a non-official journal just to keep the conversation light," says Dr. Krasner. "For example, in one of the recent posts, the blog told the story of a jilted woman dentist who, while treating her ex-boyfriend's tooth ache, was so overcome with anger that, while he was asleep, she extracted all of his teeth." Although it came from a style magazine, the underlying message was that everyone should choose their dentist carefully.
The blog is not intended to give advice for dental treatment. It is only meant to give research based information that may permit patients to make better decisions in their own dental care or warn them about potential problems of which they might not be aware.
The information in the blog will also continue to be published in the Facebook/saveatooth blog with the hope that the information will be passed on to all reader's friends.