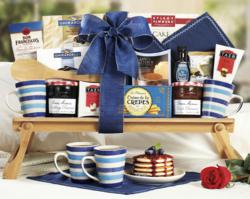 To send a Mother's Day gift basket in time for Mother's Day, log onto www.winecountrygiftbaskets.com
Fullerton, CA (PRWEB) May 03, 2012
Mother's Day is a time to show your appreciation for all that moms do. What better way to show love and appreciation than to give a gift basket. Wine Country Gift Baskets chose their five most popular baskets for Mother's Day to make shopping quick and easy.

Little Lakes Mother's Day Duet – A best seller this time of year, Little Lakes Mother's Day Duet is filled with two popular wines and a great selection of gourmet snacks. With shipping included, it's no wonder these are quick to sell out.
Mom's Coffee, Tea and Cocoa Assortment – It's common knowledge that moms run on caffeine. This basket is loaded with everything mom needs to get through the day. At $34.95 and with free shipping, this might be the best value on this list.
A Day Off – Moms need breaks too. Give the gift of relaxation and relief with A Day Off spa collection.
Deluxe Breakfast Classic – Make mom breakfast for a change. Go the extra mile with the Deluxe Breakfast Classic and wake her up with breakfast in bed.
Domaine Chandon – For those moms that like something extra special. Domaine Chandon sparkling California brut champagne is paired with an assortment of gourmet crackers, cheese and cookies. This one is sure to be enjoyed.
To send a Mother's Day gift basket in time for Mother's Day, log onto http://www.winecountrygiftbaskets.com or call (800) 394-0394. Gift consultants are available for online chat to answer any questions.
Wine Country Gift Baskets is a division of Houdini Inc., located in Fullerton, California. Wine Country Gift Baskets has shipped more than 50 million gift baskets since they were founded in 1984.