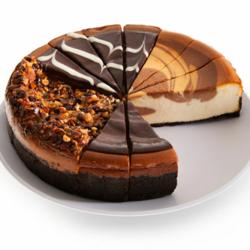 Manchester, NH (PRWEB) May 03, 2012
Since 2002, the company has secured its place as a major online retailer and, in 2010, ranked number 6 on INC's 50 fastest growing companies in the Food and Beverage category. Due to its enormous success in offering quality, beautiful products, GourmetGiftBaskets.com has decided to show its potential as a staple for gourmet desserts.
Though GourmetGiftBaskets.com itself does offer a variety of baked goods, CEO and founder Ryan Abood states that they "wanted to expand in this department, as there has been a dramatic increase in demand for baked goods over the last few years. We've received an enormous amount of acclaim due to these products and realize that offering more would better serve our customers."
Backed with over a decade of experience with gourmet products,Cheesecake.com is the perfect stop to find delectable desserts for all occasions. And, by offering over 30 different cheesecake flavors, customers are sure to find the right dessert. From classic favorites, like New York Style, to new tastes, such as Kahlua Almond, Cheesecake.com offers a large variety of delicious flavors. Plus, they have a brilliant selection of sampler cheesecakes, which are comprised of carefully selected flavors, so everyone is sure to have a piece that they'll love.
But their understanding of the value in offering an array of choices extends far beyond cheesecakes. Also on Cheesecake.com, customers are greeted with a selection of rich brownies, cakes, cookies, and whoopee pies. "We know the importance in having diversity in our products," Abood says, "Our customers love choices and we're dedicated to accommodating them with the most delicious products in the market."