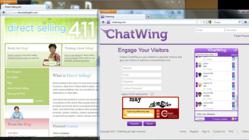 Boston, MA (PRWEB) May 04, 2012
Direct selling is one of the oldest professions in the world, based on the websites and research materials dedicated for it. Many people have tried direct selling, yet only few of them made it big in the industry. To ease up a direct seller's marketing effort, Chatwing has introduced a website chat tool that has a high rate of global connectivity. Chatwing's developers worked round the clock to ensure that the widget can deliver a great service.
Chatwing is meant for global connection even though it may look simple. In fact, people love simple apps because they don't have to waste time doing complicated methods. The Chatwing chat box simply improves the way people communicate with each other. In Chatwing, guests and visitors can log in using their Facebook or Twitter accounts. This eases up the exchange of personal information. Adding to that, people with Facebook groups can now recommend their advocacies to everyone easily.
Direct sellers with blogs will also have a minor break in the industry. However, it doesn't stop in blog creation alone. To make a blog worthwhile, the user must be able to utilize a shout box that can attract attention and generate activity. This is the main goal of Chatwing. Once installed in any blog, Chatwing has the potential to turn it into a lounge of varying topics and discussions. With a successful marketing spree, the blog will become visible in just days or weeks.
Also, installation of the Chatwing shout box takes only simple steps. First, the user must register his blog's domain name. Next, he needs to set up an official account that will serve as his dashboard. In the customization step, the user can modify the height, width, color, and title of the widget. After completing everything, Chatwing will generate the HTML code necessary for the embedding process. Once Chatwing is embedded, it will usually go live in just seconds.
About Chatwing.com
Chatwing.com has developed live chat software for websites and blogs. It caters to different online communities due to its high rate of connectivity. Everyone can create a customizable live chat box feature in 1 minute or less. Users have the ability to customize the size, color, and fonts of the chat product. The ability to chat via social media accounts such as Facebook and Twitter enable Chatwing to offer a personal and unique real-time experience to all sites. Chatwing is 100% free and very easy to use.