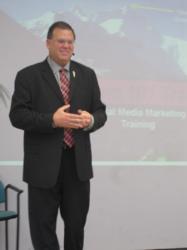 The S.M.A.R.T. Report Card is designed to help measure small business' online presence.
Los Angeles, CA (PRWEB) May 02, 2012
Bill Ganz, owner of LOL for Small Businesses (Leaders OnLine) has recently released a "S.M.A.R.T. Report Card" which was created to act as a useful tool for business owners, business executives and entrepreneurs to measure their online presence.
The S.M.A.R.T. Report Card is a new tool that is now included as one of the tools in the Total Social Media Solution program, and allows a business person the ability to measure their brand presence, social media networks, search engine presence, targeted traffic, competitor ranking, local and mobile ranking, digital reputation management, and content site presence.
"We created LOL for SMB as a way to increase the profit margin for our small business clients," said owner Bill Ganz in a recent interview. "It worked so well that we decided to create a program out of it and offer it to all small businesses. The S.M.A.R.T Report Card is one of many tools included in the program, and is designed to help measure small business' online presence."
The LOL for SMB contains four DVDs and a workbook to help walk business owners and executives through the training which includes a jump start marketing plan, how to create and deploy a sales funnel, and how to develop and deliver content to the web and social media sites.
For more information about LOL for SMB, or to enquire about the S.M.A.R.T. Report Card, visit Total Social Media Solution
About Bill Ganz
Bill Ganz is one of the industry's top Social Media trainers, is an expert in his field, and has recently completed a global world tour training businesses and company Executives and Owners worldwide. As the founder of MORE Media Group, Inc. and FastTrack Online Marketing, Ganz has recently focused on the development of new and practical ways to communicate rich multimedia experiences over the internet.