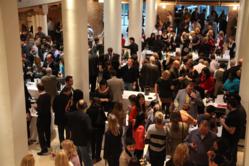 The Vinitaly US Tour 2012 successfully kicked off in Chicago
Chicago, IL (PRWEB) May 03, 2012
The Vinitaly US Tour 2012 successfully kicked off in Chicago on April 30 with a well-received first edition trade and consumer event in the beautiful River East Art Center. Highlights included a restaurant seminar where the trade community had a lively discussion on recent trends in the Chicago wine and restaurant scene. The seminar panel included Jason Carlen (Wine Director at Spiaggia) and Brian Duncan (Bin 36) along with moderator Dwight Casimere ('The Wine Doctor').
Jason Carlen, wine director at the famous Spiaggia restaurant, the flagship of Italian cuisine in Chicago, explained that, "More young people are drawn to Italian wines, not only because of the large Italian community in Chicago, but because people are just becoming more interested. Our customers come from all age groups: from established well-heeled clients seeking out luxury goods to families and younger wine lovers."
"We continue to be very proactive in promoting and educating in and around our restaurant with seminars and tastings, involving the community and showing what happens behind the scenes of preparing a successful menu and pairing it with great Italian wines. We are looking for wine that is indicative of the regions it is from, thus we like small producers that are characteristic of their land and can tell a story," he added.
During the trade event, Italian Consul General Alessandro Motta highlighted the need for Italian brands to stay competitive in the US by focusing on consistent long-term promotion, choosing the right importer/distributer and setting the right price for their wines. According to Mr. Motta, "Italian companies in Chicago traditionally enjoy great support from the Italian community and the strong restaurant scene in Chicago. It is important for new entrants to choose the right distributor."
"Successful brands have been built by wine producers developing strong trade and consumer relationships with consistent promotion, and increasingly associating the Italian way of life with their wines. I see great potential in exploring the synergies of this interplay even further," Motta noted.
Trade visitors were also able to use IPads with the innovative Vinitaly Interactive application, bringing new technology to the tastings in order to facilitate education, promotion and consumption of Italian wine. Attendees used the IPads to record their preferences of the day and receive additional information on the wines being poured by the Valpolicella Consortium, the Prosecco Consortium and the portfolio of Folio Fine Wine Partners including Arnaldo Caprai, Donnafugata, Marchesi de' Frescobaldi, Masi Agricola S.p.a. and Villa Sandi. At the end of the tasting, participants had their preferences of the day emailed directly to further familiarize them with the wines they tasted.
The second business seminar highlighted the breadth of indigenous Italian varietals to a large audience of trade professionals. This was followed by a lively consumer event in the evening with more than 450 excited wine lovers exploring an assortment of fine Italian wines.
The Vinitaly US Tour 2012 continues with a trade event on May 2 at Three Sixty (Tribeca Rooftop) in New York City that will include a walk-around tasting and business seminars on brand building, US market trends and successful product promotion. On May 3 Vinitaly will be the exclusive wine sponsor for the American Cancer Society's annual Taste of Hope gala fundraiser at 82 Mercer. Fine Italian wines and inventive cocktails will be offered with signature dishes from leading chefs with the goal of raising more than $175,000. Guests will enjoy a walk-around tasting with exquisite wines of Ca del Bosco, Ferrari, Gruppo Italiano Vini, Italia del Vino Consorzio, Santa Margherita, Casa Vinicola Zonin, Sartori, Medici Ermete, Mezzacorona, Castello Banfi, Azienda Vitivinicola, Villa Almè and others. Leading importers of Italian wines including Banfi Vintners, Domaine Select, Vinifera, Vision Wine and Spirits, Votto Vines, and Mionetto USA will further contribute with their selected wines.
To register for the event in New York visit http://www.vinitalynyc.eventbrite.com.
About Veronafiere
Veronafiere is the leading organizer of trade shows in Italy including Vinitaly, the largest wine event in the world. In 2012, over 4200 exhibitors showcased their wines to 140,000+ visitors (35% from outside of Italy representing over 120 countries). Veronafiere created the Vinitaly World Tour http://www.vinitalytour.com in 1998 to develop an international platform for the promotion of companies in the Italian wine and food sectors. The latest development saw Vinitaly aiming at increasing Italian wine sales in China as it reinforced its partnership with the Hong Kong Trade Development Council (HKTDC), which organizes Asia's leading wine fair Hong Kong International Wine & Spirits Fair.