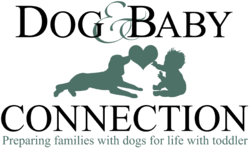 Living and learning safely together one step at a time!
Cary, NC (PRWEB) May 03, 2012
The Dog and Baby Connection™ is the first international baby/toddler program in which dogs are the focus. Answering the call of many parents, this program sets the groundwork for successful dog and baby interactions for families with babies 3 months to 3 years. The goal of The Dog and Baby Connection™ is to create a safe, harmonious environment for both toddlers and dogs.
This innovative program increases safety for babies while decreasing stress for parents. It is available through licensed professional presenters who teach both classes and workshops. Licensed Dog and Baby Connection™ presenters help address the concerns of parents, decrease the stress associated with living with an active baby or toddler, and increase the safety of all family members, both human and canine.
Should the need arise for more in-depth intervention, The Dog and Baby Connection™ presenters are available to provide the necessary support. Because presenters are not only educators, but also qualified professional dog trainers and behavior modification experts, they are able to assess individual situations and design and implement management and training plans tailored to each family.
What topics does The Dog and Baby Connection™ program cover?
● Management options that fit the home environment
● The types of supervision critical when dogs and babies live together
● Exercises and techniques tailored to the different developmental stages of babies/toddlers to help both dog and baby live and learn happily together
● The importance of including family dogs in household activities with baby
● The common but often overlooked "impulsive re-homing phase."
● The subtle body language of dogs
● New and fun ways to include your dog in daily activities
● Ongoing support for families
Packed with helpful pictures, educational kid-friendly phrases, and informative handouts, The Dog and Baby Connection™ program is a resource that all new parents can enjoy and easily implement into their busy lives with babies and dogs.
The creator of the program, certified dog behavior consultant Jennifer Shryock, has been involved with dogs since a very young age. She has a Bachelors Degree in Special Education and is the mother of four children. Along with her private dog behavior consulting business, Family Paws, the Shryock family has fostered over 70 dogs and many cats over the years providing ample hands-on learning opportunities. It was through fostering and becoming active in dog rescue that Jennifer saw the need for dog education specific to new and expecting families.
Frequently dogs are abandoned or re-homed due to lack of knowledge of available resources and support. Education and preparation make all the difference in the world when it comes to safe interactions between babies and dogs. The Dog and Baby Connection™ provides consistent and current information through qualified, licensed presenters. By addressing concerns or behavioral challenges up front, families can set proper expectations and practice new routines both well before and after baby arrives. Providing this resource is what drove Jennifer Shryock to create The Dog and Baby Connection™ "I want to make education available even before they know they need it!" http://www.FamilyPaws.com offers ongoing support for new and expecting families with dogs! Shryock believes by offering Dog and Baby Connection™, this type of education will become as commonly attended as other important parenting safety classes. That is tail wagging news for dogs everywhere!