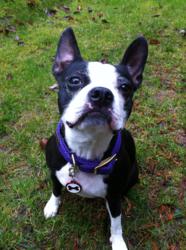 It's very important to make sure our pets are not roaming the streets with out of date information, whether it's outdated tags or microchips.
Seattle, WA (PRWEB) May 03, 2012
PetHub today announced that its groundbreaking digital ID pet tags are now available worldwide to help pets all over the world get home faster and safer. PetHub's international digital ID pet tags provide immediate access to a pet's important emergency information with unique Quick Response (QR) codes, GPS email notifications, and consumer-friendly Web profiles. Going beyond standard ID tags that only include the pet's name and a phone number, the PetHub digital ID tag provides immediate access to information such as alternative emergency contacts, necessary medication, allergies, immunizations, vet and insurance providers, dietary needs, and much more.
"It's very important to make sure our pets are not roaming the streets with out of date information, whether it's outdated tags or microchips," said Tom Arnold, founder and CEO of PetHub. "It's a challenge pet owners face worldwide and our goal is make sure dogs and cats everywhere are protected with so much more than just a name and number on a tag so that anyone can take immediate action to get a lost pet home."
How it Works:
First, pet owners simply create an online profile for their pet at http://www.pethub.com, which provides unlimited data storage to keep a pets' medical, social, dietary, training, photos, and other records in individual profiles for any pet. That profile then gets linked to a "PetHub powered" tag that anyone with a Smartphone (iPhone, Android, or Blackberry) can easily scan or use the Web address on the front of the tag to access the pet's online profile and contact its owners. Whenever the PetHub ID tag gets scanned with a GPS-enabled phone, owners receive an email with the exact location of where the tag got scanned. Pet owners can update their furry friend's online profile anytime, anywhere from any browser or mobile device, free-of-charge, to ensure that their pet's contact information is always up-to-date.
PetHub will be making its international debut at Interzoo in Nuremberg, Germany on May 17 in partner Red Dingo's booth (hall 6, stand 6-406).
To see how PetHub works, visit http://PetHub.tv.
About PetHub
PetHub, Inc. is focused on getting lost pets home faster and safer than ever before by utilizing current and new technologies, including QR code pet ID tags, GPS mapping, and real-time notifications. PetHub's products and services were recently recognized in the December 2011 issues of both Dog Fancy Magazine and Pet AGE Magazine, where the company was honored with an "Editors' Choice Award" as well as a "Silver Seal Retailer Select" award. The company has multiple software patents pending. Facebook users can become a PetHub fan at http://Facebook.com/PetHub or follow updates at http://Twitter.com/PetHub.
PetHub and their respective logos are trademarks, registered trademarks, or service marks of PetHub. Other products and company names mentioned are the trademarks of their respective owners.